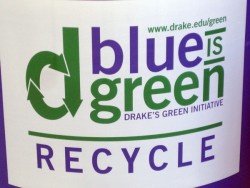 Single-stream recycling began this week on the Drake University campus. Drake is the first college or university in Des Moines to adopt single-stream recycling, according to Greenstar Recycling and the Metro Waste Authority.
Single-stream recycling is a system in which all fiber papers and containers are mixed together, rather than being sorted into separate commodities such as newspaper, cardboard, plastic and glass.
Drake is partnering with Greenstar Recycling on the program, which is very similar to the Metro Waste Authority's
"Curb it!"
program for residents of central Iowa.
Greenstar-Des Moines
is the largest deposit container processor in Iowa. It also is the materials processor for the Des Moines Curb It! recycling program.
"We are proud that Drake is the first institution of higher education in Des Moines to move to single-stream recycling," said Drake President David Maxwell. "We expect the program will lead to an increase of up to 50 percent in the volume of materials recycled on campus each year.
"As charter signatories to the American College & University Presidents' Climate Commitment, we are dedicated to doing everything that we can to minimize our impact on the environment, and this initiative is a major step in fulfilling that commitment."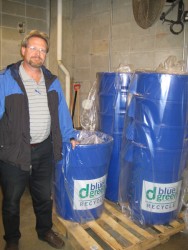 Director of Facility Services Mark Chambers stands next to recycling containers ready for distribution.
This week, each office has received a recycle container and a
small trash receptacle. An information sheet on acceptable recycle
materials was to be delivered with the new receptacles. The
information sheet
is posted on the Drake Web site.
The custodial crew will empty both containers
for each office every weekday morning. The custodial crews then will
deliver both trash and recycle materials to the appropriate dumpsters.
Each dumpster area contains both a trash and recycle dumpster. All
recycling containers including dumpsters are blue with the exception of
stainless steel larger recycle receptacles in lobbies and open public
areas in major campus buildings.
The residence halls on campus will continue their current
recycling program with the addition of added blue single-stream
dumpsters conveniently located near each residence hall. Students in
the residence halls already recycle a wide range of materials.