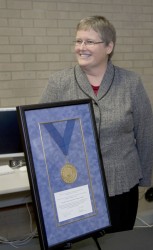 Lori Blachford receives a commemorative medal as the inaugural holder of the chair position.
Drake University celebrated the appointment of Lori Blachford as the inaugural Peggy Fisher and Larry Stelter chair of magazine journalism with an installation ceremony on Thursday, Oct. 1.
"This special gift will prepare generations of magazine journalists to become leaders in our industry," Blachford said. "This gift is really more of a promise."
Members of Drake's Board of Trustees, Drake President David Maxwell, Provost Michael J. Renner, faculty, staff and students joined donors Peggy Fisher and Larry Stelter and Blachford at the celebration.
"This is a very well deserved honor," said Drake President David Maxwell at the ceremony in the Kragie Newell Interactive Media Lab in Meredith Hall. "An endowed professorship is prestigious and has value in attracting and retaining quality people like Lori."
Drake senior magazine major Tara Richards of Indianola, Iowa, expressed her thanks on behalf of students for making it possible for "hundreds of future students to have the same great experience at Drake as we've had."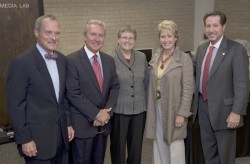 Left to right: Dean Charlie Edwards, Larry Stelter, Lori Blachford, Peggy Fisher and Drake President David Maxwell.
Richards added that she feels fortunate to be a student at Drake, "where we have professors like Lori –someone who not only knows who her students are and where they want to go, but who takes an interest in their futures and spends a great deal of her personal time helping them accomplish their goals."

The new position is made possible by a $1.5 million gift that was presented in November of 2008 by Drake alumna Peggy Fisher and her husband, Larry Stelter. Read more about the
gift
online.
Fisher and Stelter own the
Stelter Co
., a Des Moines-based national gift planning company that produces marketing materials for nonprofit organizations.
"We heard Lori speak about the new media world and realized she was the perfect fit," Fisher said. "We couldn't be happier to make this gift part of our legacy here at Drake."
Blachford is responsible for maintaining and refining Drake's nationally recognized magazine journalism program. She will also present a distinguished lecture each year that will reflect her current research.
She received her bachelor's degree from the University of North Dakota and has spent more than 20 years working as a professional journalist with companies such as the Des Moines Register and Meredith Corp., where she spent 10 years.