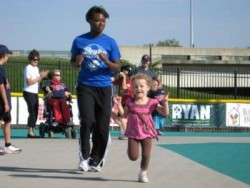 Drake women's basketball players helped kids hit and field the baseball and run the bases.
Members of the Drake women's basketball team took time out from their preseason schedule to participate in the Kiwanis Miracle League fall season last week.
The players spent two hours at the Miracle League park, located across the street from Principal Park in downtown Des Moines, helping physically and mentally challenged youngsters play baseball.
Players on the Bulldog basketball team were baseball buddies for the kids, assisting them hit, field the baseball and run the bases.
"We were glad to have the opportunity to help the kids enjoy baseball," said Drake forward Morgan Herrick. "It was a fun event, providing an opportunity for kids with special needs to play baseball."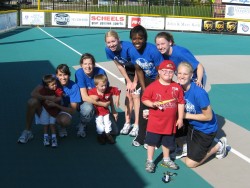 Basketball players gather with kids last week.
"To be able to see Drake athletes interact with the youngsters and watch the beams on their faces was something special, said Scott Pierce, a member of the Des Moines Kiwanis Club.
Throughout Amy Stephen's six seasons as head coach at Drake, the women's basketball team has been actively involved in the Des Moines community.
They have visited children at Blank Children's Hospital, read to children at local elementary schools and have served dinners at the First Federated Church for underprevileged Des Moines residents.