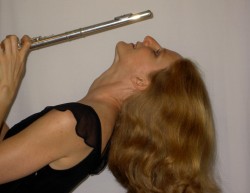 Leslie Marrs
CONTACT: Tory Olson, 515-271-1834, tory.olson@drake.edu
Drake University Assistant Professor Leslie Marrs, flute, will give a recital on Tuesday, Oct. 13.
The performance, which is free and open to the public, will start
at 8 p.m. on the Jordan Stage in Sheslow Auditorium in Old Main, 2507
University Ave.
Marrs will be joined by pianist Jessica Anderson and saxophonist
James Romain, associate professor of saxophone and jazz studies.
The program will feature:
"Sonata in A Minor" by Carl Phillip Emmanuel Bach
"Janus" by Paul Hayden
"Sonata" by Robert Fruehwald
"Carmen Fantasy" by Francois Borne
"Sonatina" by William Mathias
Marrs has performed as a chamber musician from the nation's
capital to New Delhi to Oxford. She has been featured as a soloist with
the Bay View Festival Orchestra and the United States Army Field Band,
among others.
She earned a Doctor of Musical Arts at the University of North
Carolina at Greensboro, a Master of Music from Florida State University
and a Bachelor of Music from Virginia Commonwealth University.