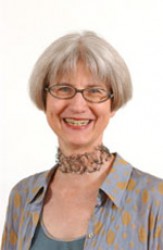 Patricia Yaeger
Patricia Yaeger, a professor of English at the University of Michigan, will give a presentation as part of Drake University's Writers and Critics Series on Monday, Oct. 12.
The event will take place at 7:30 p.m. in the Cowles Library Reading Room, 2725 University Ave.
Yaeger will give a talk titled, "Luminous Trash: Throwaway Robots in Blade Runner, the Terminators, AI and Wall-E."
Her primary research interests include material culture with a focus on waste and thing theory, which explores how people relate to things and waste and give status to these objects.
Yaeger's previous works on trash include: "Dematerializing Culture: Faulkner's Trash Aesthetic," "Trash as Archive, Trash as Enlightenment" and "9/11: Rubbish as Archive."
The Writers and Critics Series, which is sponsored by Drake's English Department and its Center for the Humanities, will continue throughout the year.
The next presentation will be the Drake Writer's Harvest Festival, which is a benefit for the Food Bank of Iowa, on Friday, Nov. 6. It will begin at 7 p.m. in the Cowles Library Reading Room, 28th Street and University Avenue.
For a complete list of upcoming events in the series, visit the
Web site
.