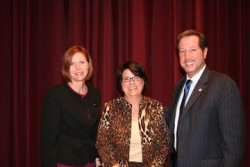 Human Resources Director Venessa Macro, Deneen Dygert and Drake President David Maxwell.
Four members of the Drake University staff were awarded Madelyn M. Levitt Awards on Thursday, Sept. 17, at the annual Fall Faculty and Staff Convocation in Sheslow Auditorium in Old Main.
"Once again the nominations represented an exceptional group of dedicated individuals," said Venessa Macro, director of human resources. "It was particularly impressive to see the impact just one or two individuals can have; whether it is at work or in the community."
Deneen Dygert, associate director of admission, was honored with the Madelyn M. Levitt Distinguished Community Service Award.
The 2009 Madelyn M. Levitt Employee Excellence Awards were presented to:
Tom Delahunt, vice president for admission and financial aid
Michael Ball, associate director of recreational services
Matt Miller, assistant director of recreational services and facilities
The awards were established by the late Madelyn M. Levitt, who served as a Drake trustee and special assistant to the president for development. Her daughter, Suzie Burt, attended the presentation
Dygert
of Urbandale is deeply involved with NAACP's National Youth Council and for the last five years has coordinated its College Prep Day, a conference for high school students to explore educational opportunities.
Drake collaborates with the Youth Council, Iowa College Access Network, the Iowa College Student Aid Commission and ASK Resources to offer a day of sessions for parents and students. The seminar focuses on key topics related to the college choice process, a college fair, panel, luncheon and keynote speaker.
"On February 18, 2006, Drake was awarded the NAACP Youth Council Service Award, in part, due to Deneen's commitment to this program," her nominator said.
Dygert also coordinates Gear-Up Des Moines for groups of local middle and high school students to visit Drake each year to learn about the college environment, opportunities and requirements.
She is also involved with numerous events and organizations, including the HerStory After School Celebration, a year-end celebration of the Chrysalis after school program and Iowa Private College Week. "To say that Deneen gets involved is an understatement!" her nominator added.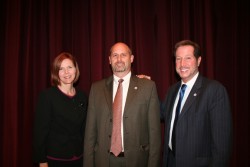 Human Resources Director Venessa Macro, Tom Delahunt and Drake President David Maxwell.
Delahunt
of West Des Moines was nominated for the award because of his leadership and commitment to this fall's enrollment at Drake amidst a recession and an unpredictable time for higher education.
Drake enrolled 863 first-year students this fall to meet the targeted enrollment level for the entering class.
As planned, this year's first-year class is smaller than last year's class of 902. Delahunt and University leaders set the target below 900 to maintain a manageable class and continue to offer a quality Drake experience and sense of community for students.
"Tom Delahunt led the effort, kept the faith and fulfilled his goal," said his nominator. "This was an amazing feat during this very perilous and unpredictable year.
"Tom's professionalism, his boundless energy and goodwill, his ability to engage the entire Drake community in taking responsibility for enrollment and his commitment to Drake make him a favorite nominee for the Employee Excellence Award."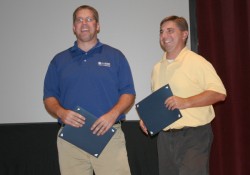 Matt Miller, left, and Michael Ball, right, receive their awards at the convocation ceremony.
Ball of West Des Moines and Miller of Des Moines
were honored together for the award for their professionalism, teamwork and quick response to a situation during May's Undergraduate Commencement Ceremony.
Ball and Miller helped save the life of Glenn Koenen, who had a heart attack just before his daughter Cassaundra Koenen's graduation ceremony at Drake.
Koenen, who was rushed to Mercy Medical Center where he later watched his daughter receive her diploma during a
special ceremony
, and Cassaundra nominated Ball and Miller for the award.
"In response to the situation, Matt and Michael immediately sprang into action to get an automatic external defibrillator to my location," Glenn Koenen said. "That shocking experience stabilized my situation until a crew from the Des Moines Fire Department arrived."
"At a time when every second counted, your two employees made important things happen," he added. "In a crowded, chaotic scene they focused on getting me the help I needed. Their actions were a critical part of the mix of aid, which brought me back to life."