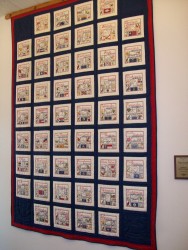 Myrtle Orlean, Ed'43, who created the elaborate 50-state quilt displayed in the SOE entryway, passed away September 1.
Olean's obituary from The Des Moines Register follows:
MYRTLE ORLEAN
(HOHL) STALEY
Des Moines
Myrtle Staley, 95, a resident of Valley View Village in Des Moines, Iowa, formerly of Donnellson, went home to be with her Heavenly Father on September 1, 2009.
Myrtle Orlean was born on October 20, 1913 in Donnellson, Van Buren Township, Lee County, Iowa.
She was the daughter of Ernest J. Hohl and Orlean Fern Onstott.
Myrtle graduated from the Donnellson High School in 1932.
Myrtle attended Drake University. She received her BSE in Education in 1943. After graduation she moved to Riverside, California and worked for the Southern California Telephone Company.
Myrtle moved back to Des Moines to once again attend Drake University. She graduated from Drake University with an MSE in Education in 1960.
After completing her master's degree, she spent a year teaching children of the U.S. Army personnel in the Butzbach American School, Butzbach, Germany. Headquarters Combat Command "A" Third Armored Division.
Myrtle taught grade school at Runnells, Park Avenue and Hillis Elementary schools before retiring in 1979.
Myrtle was so grateful for the education she received at Drake and hoped that the Myrtle Hohl Staley Scholarship will enable many future teachers-and their students-to reap the benefits of the Drake experience. Myrtle has provided remarkable educational opportunities for future students.
Myrtle was a member of Alpha Delta Kappa, the Drake Heritage Society and S.S Still Society.
Myrtle attended and was a member of the Central Presbyterian Church of Des Moines since 1955.
She kept busy with her hobbies of cooking and quilting.
Myrtle is survived by Sister in Law's, Doris Hohl of Malcom, Ia. and Helen Hohl of Donnellson, Ia., Nephew Wayne (Carlene) Hohl of Altoona, Ia. and numerous other nieces and nephews. She was preceded in death by her brother Melvin Hohl, sister Lilly Hohl and stepbrother Raymond Hohl.
No services are planned as Myrtle was doubly generous to students by donating her body to the College Of Osteopathic Medicine and Health Sciences, Body Donation Program and by establishing a future endowed scholarship fund. Her wish was to do something for students who need help and are striving toward something to help humanity.
Those wishing to express their sympathies through a memorial may direct their gift to Mercy Hospice of Des Moines in her memory.