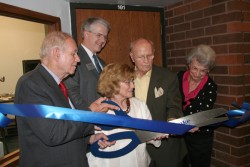 Robert and Billie Ray, Drake Provost Michael J. Renner and Don and Dori Byers join efforts in the ribbon-cutting.
Drake University's
RaySociety
for Lifelong Learning now has a place to call home on Drake's campus.
The new Don and Dori Byers RaySociety Classroom was dedicated to the group Sept. 16 during a ribbon-cutting ceremony at the Dial Center, 2407 Carpenter Ave.
Former Iowa Gov. Robert D. Ray and his wife, Billie, both Drake alumni, along with Drake Provost Michael J. Renner and Don and Dori Byers, who spearheaded the founding of the organization seven years ago, took part in the ribbon-cutting.
"We've been very honored to have our names associated with this organization," Robert Ray said. "We talk a lot about opportunity, but instead of 'O,' we should say 'O.H.,' for opportunity happiness. So many of our members have found happiness here."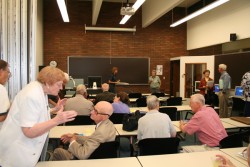 With a capacity of 30, the space is equipped with new desks, chairs and an audio-visual system.
Formerly two small classrooms, the space was remodeled and renovated into a single classroom at a cost of $37,000. With a capacity of 30, the facility will be used for RaySociety classes and events and regular Drake classes.
The room is equipped with new desks, chairs and an audio-visual system.
The location has convenient access from the Dial Center and Fine Arts parking lots off of 25th Street and Carpenter Avenue.
Fall term begins with new classes
The RaySociety is offering a new group of classes that focus on topics ranging from religious painting to personal safety to Native American archaeology.

These new courses are available this fall:
Power-Up for the Time of Your Life
Religious Painting in Renaissance Italy from Leonardo da Vinci to Caravaggio
On Traveling to Cuba
Why You Say It!
How to Write Your Life
Identity Theft: What Is Identity Theft? And How to Protect Yourself
Biological, Cultural, Social & Political Aspects of Human Reproduction
Native American Archaeology in Iowa and the Upper Midwest
Unsettled Law for Unsettling Issues
The RaySociety's annual membership fee is $50 (June 1-May 31). Most classes cost $25 each.
Many RaySociety events are planned for this year, such as the A. Jon Anderson White Riverboat Ride and luncheon on Oct. 9, among other activities.
For more information about the RaySociety and its fall courses, activities and registration, visit the
Web site
or call 515-271-2120.