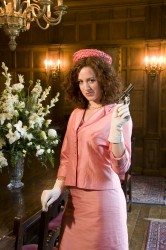 Sporting a Jackie Kennedy-style pink suit, Emily Draffen stars as Jackie-O Pascal in Drake's production of "The House of Yes."
Drake University Theatre's production of "The House of Yes," written by Wendy MacLeod and directed by Deena Conley, closes today. The final performance starts at 2 p.m. in Studio 55 of the Harmon Fine Arts Center, 25th Street and Carpenter Avenue.
"The House of Yes" is a dark comedy, exploring society's perceptions of love through the troubled Pascal family.
Set in McLean, Virginia, a suburb of Washington D.C., the Pascals are obsessed with John F. Kennedy and his family. When Marty Pascal brings a fiancé home for Thanksgiving dinner, a dramatic unraveling of family secrets ensues.
Meanwhile, a hurricane rages outside, but its fury pales in comparison to the tension building inside the Pascal home.
Conley, associate professor of theatre arts, is no stranger to the play. "The House of Yes" was one of the plays she wrote about in her dissertation.
She admits the play is filled with dark themes, but emphasizes that the production possesses multiple comedic situations.
"I love the play because it's a dark comedy," Conley said. "The content is tricky, but if you can see past that, it's really quite funny."
The play contains mature content not intended for children and includes the use of a firearm.
Tickets are $5 for adults, $3 for students and senior citizens and $1 for those with a Drake ID. Tickets can be reserved by calling the Drake Fine Arts Box Office at 515-271-3841.