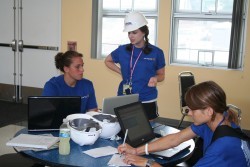 Drake students Erika Sevigny, Lindsay Scarpello and Nicole Braunsdorf create content for social media Web sites.
DRAKE STUDENTS USE SOCIAL MEDIA TO PROMOTE 9 HOMES IN 9 DAYS
A group of 25 Drake University journalism students volunteered to tap into the social media network to help promote Hubbell Realty Co.'s "9 Homes in 9 Days" project.
In just one week, students in Drake's School of Journalism and Mass Communication posted more than 118 updates — also known as "tweets" — on
Twitter
, gained 245 fans on
Facebook
and uploaded nearly 30 videos to
YouTube
.
The homes were built for Anawim Housing, a Des Moines charity that helps low-income families. The homes provide stable, safe and affordable housing to families with a yearly income of $13,000 or less and at least one child.
Students reported on the construction of nine townhouses near campus at 21st Street and Forest Avenue alongside volunteer construction crews, which completed the project early on Sept. 16.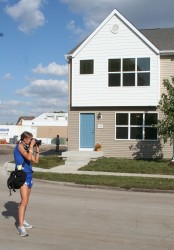 Drake senior Nicole Braunsdorf takes photos of the "9 Homes in 9 Days" ribbon-cutting ceremony to post on social media Web sites.
"We figured out how to use social media as a journalism tool as we went along," said Matthew Nelson, a sophomore majoring in physics and news-Internet from Hibbing, Minn.
The appeal of social media is that information can be distributed instantaneously, at least in most cases. One obstacle students encountered is that YouTube authorizes any video before it is posted. The students had to wait up to three hours before some submitted videos were approved and posted to the Web site.
"We found that if we wanted to get a video out immediately, we could post a video on Facebook and it's available instantly," Nelson said.
Some students who worked on the project had not used social media tools before, and also learned how to use software and equipment that makes it possible to create content for these online outlets.
"I never used iMovie, which is video editing software, before working on this project," said Erika Sevigny, who is from Davenport, Iowa, and is majoring in advertising and marketing. "I used it to create a video that was posted on YouTube."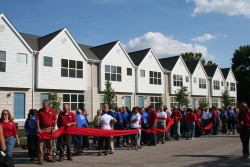 Volunteers gather in front of the townhomes at 21st Street and Forest Avenue at a ribbon-cutting ceremony.
Even though students won't be receiving credit for their work, Kelly Everling, Drake assistant professor of journalism, says they learned valuable lessons about social media that they'll be able to take back to the classroom.
"Social media is an emerging journalism tool, but no one's figured out how to use it yet," Everling said. "If something doesn't work, you find out immediately and try something new. These students learned a lot about what is and isn't effective."
The volunteers aren't the only students who will be learning from the project. Students in Everling's fall semester public relations course are analyzing the work of the volunteers to determine which content was the most effective in reaching an audience.