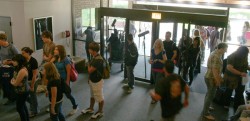 Drake students gather in the Harmon Fine Arts Center.
More than 100 Drake University students were chosen to serve as extras when the upcoming film "Janie Jones," starring Abigail Breslin of "Little Miss Sunshine," was filmed on Drake campus last week.
Film crews from Unified Pictures and Absurda began shooting scenes for the film, which is scheduled for release in summer 2010, on the Drake campus early Wednesday morning.
Footage was taken in the Performing Arts Hall of the Harmon Fine Arts Center, and on campus between Cartwright Hall and the Harmon Fine Arts Center.
The students participated in the film as extras from 3 to 10 p.m., acting as college students at a rock concert. In the scene, members of the performing band begin to fight, while the students record the brawl on their cell phones.
"It was long but fun!" said Susan Kerss, of Des Moines, who is pursuing a master's degree in communication leadership. "The cast and crew told us we were better than the L.A. groups. Everyone was a trooper. "
"The coolest part of the experience was watching my friends go up to the hairstylist and come back with these ridiculously large and messy hair-dos that made them look like they just got out of bed, " said Jim Kolnik, a junior of Des Plaines, Ill.
"My friends finally convinced me to go get my hair made up and when I got to the front of this large line the hairdresser looked at my normal hairstyle and said that it was great for the scene, " added Kolnik, a biochemistry and molecular biology major with a minor in musical theatre .
"I didn't know whether to take that as a compliment or an insult based on all the other hair-dos around me."
Written by David M. Rosenthal, "Janie Jones" follows the story of rocker Ethan Brand, whose life takes an unexpected turn when an ex-groupie leaves him with his 13-year-old daughter, Janie. While Ethan doubts his paternity of the child, he has no choice but to bring her on tour with his band.