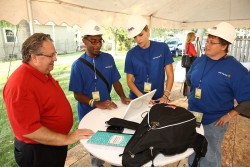 Hubbell Realty Co. president and CEO Rick Tollakson collaborates with Drake students Lawrence Crawford and Michelle Anderson and Drake faculty member Lori Blachford.
A group of Drake University students is exploring the intersection of social media and journalism by covering the construction of nine townhouses in nine days at 21st Street and Forest Avenue.
More than 25 students in Drake's School of Journalism and Mass Communication are working as volunteers for Hubbell Realty Co.'s "9 Homes in 9 Days" project.
The initiative will produce nine townhouses for Anawim Housing, a Des Moines charity that helps low-income families. The homes will provide stable, safe and affordable housing to families which have a yearly income of $13,000 a year or less and at least one child.
The project kicked off on Wednesday, Sept. 9, with volunteers marching to the building site, where volunteer construction crews are working around the clock.
Originally, the build was scheduled to go until Friday, Sept. 18, but the homes are due to be completed on Wednesday, Sept. 16, with a ribbon-cutting ceremony and unveiling of the homes set for 4 p.m.
The day will also feature a radio interview about the project on "The Public Relations Princess with Claire Celsi," a program on Mac's World LIVE!, an Internet-based radio station. Celsi, Drake instructor of marketing, will talk with two Drake students participating in the project at 4 p.m. on Sept. 16. To listen to the interview as the show airs live online, click here.
Drake connections spur collaboration
It was natural for Hubbell Realty Co. to turn to Drake for help with the project as the townhouses are being constructed just down the street from the University.
Other Drake connections include: Jim Hubbell, chairman of Hubbell Realty Co., who serves on Drake's Board of Trustees; and Rachel Flint, Hubbell Realty Co.'s director of marketing, who holds a master's degree in communication leadership from Drake.
Flint approached Drake faculty members Lori Blachford, the Peggy Fisher and Larry Stelter chair of magazine journalism, and Kelly Everling, assistant professor of journalism, for help with the project.
Together, the three women decided that a team of volunteer students could use social networking sites to help promote and raise awareness of the initiative.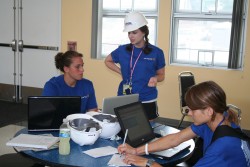 Drake students Erika Sevigny, Lindsay Scarpello and Nicole Braunsdorf create content for social media Web sites.
Project comes to life with social networking tools
Students are reporting on and covering the "9 Homes in 9 Days" project on social networking sites, such as Facebook, Twitter and YouTube.
"We're figuring out how to use social media as a journalism tool as we go along," said Matthew Nelson, a sophomore majoring in physics and news-Internet from Hibbing, Minn. "We're finding out the possibilities and limitations."
For instance, the appeal of social media is that information can be distributed instantaneously. However, YouTube authorizes any video that is posted and the students have had to wait up to three hours before a submitted video is approved and posted to the Web site.
"We found that we can post a video on Facebook and it's available immediately," Nelson said.
Some students working on the project have never used social media before, and are posting updates — also known as "tweets" — for the first time on Twitter.
"We've been getting more and more followers each day on Twitter," said Jenni Matasek, a news-Internet junior from West Bend, Wis. "We're linking to KCCI-TV and two radio stations that are covering the event, as well as posting our own content."
Students are also learning how to use software and equipment that makes it possible to create social media content.
"I never used iMovie, which is video editing software, before working on this project," said Erika Sevigny, who is from Davenport, Iowa, and is majoring in advertising and marketing. "Now, I'm using it to create a video to post on YouTube."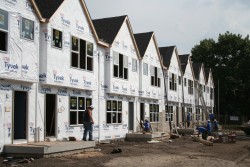 Nine townhomes at the corner of 21st Street and Forest Avenue will become home for nine low-income families.
Community outreach
In addition to the journalism students covering the project, on Friday, Sept. 11, about 10 Drake students worked as volunteers, cleaning up the building site as part of "Feel Good Friday," a weekly community service project organized by students.
"This project appealed to us because it's within walking distance to campus," said Brittany Miller, a junior majoring in English and politics from Duluth, Minn. and a "Feel Good Friday" coordinator. "It's similar to the work we done on Habitat for Humanity projects."
A video created by Drake journalism students on the Feel Good Friday volunteers is available online.
Giving back to the community is what this project is about, Blachford said.
"We want our students to be engaged citizens as well as good journalists," said Blachford, one of the faculty members advising the journalism students.
The positive impact the nine townhomes will have on the families can't be measured.
"We're delighted our students get to play a part in an important project," said Everling, a faculty adviser for the project. "Not only are the students following a significant news story, they're part of it."