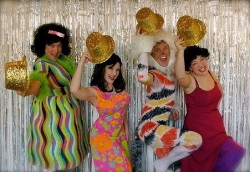 Actors Craig Petersen, Liz Ward, Eric Shepard and Amy Burgmaier spoof multiple musicals in Broadway's greatest hits.
A Drake faculty member and three alumni are featured in
StageWest
's production of "Forbidden Broadway's Greatest Hits," which opens runs through Oct. 4 in the Stoner Theater at the Civic Center of Greater Des Moines.
Karla Kash, assistant professor of theatre, is director and choreographer of the production.
Also working on the production are three Drake alumni who graduated in May:
Kiley Fattor, stage manager
Dana Gustafson, production manager and assistant director
Liz Ward, cast
"Forbidden Broadway's Greatest Hits," which won the 2006 Tony Award for Excellence in Theater, is a smart and irreverent satire that lampoons and lambastes iconic musical legends, including:
"Les Miserables"
"The Lion King"
"Phantom of the Opera"
"Rent"
"Hairspray"
"Chicago"
Performances began Friday, Sept. 18, and continue at 7:30 p.m. Wednesday through Saturday and at 3 p.m. on Sundays. Upcoming show dates are:
Sunday, Sept. 20
Wednesday, Sept. 23, through Sunday, Sept. 27
Wednesday, Sept. 30, through Sunday, Oct. 4
For more information on "Forbidden Broadway's Greatest Hits," or to purchase tickets, visit StageWest's
Web site
.