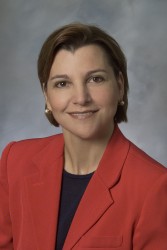 Maria M. Clapham
Maria M. Clapham, professor of psychology and chair of the psychology department at Drake University, will give the annual Luther W. Stalnaker Lecture at 7 p.m. on Tuesday, Sept. 22.
The lecture, "Capturing Creativity: Can It Be Done?" is free and open to the public and will take place in Sheslow Auditorium in Old Main, 2507 University Avenue. A reception will follow in Levitt Hall.
In her lecture, Clapham will explore current efforts to capture the meaning and power of creativity.
Creativity used to be attributed to mysterious forces labeled with vague terms, such as "muse" or "inspiration." Since the 1950s, scientific approaches that examine creative people, products and processes have identified multiple factors associated with creativity.
In an effort to measure, predict and develop creativity, these factors have been packaged into creativity inventories or training programs that are widely popular today.
Clapham will argue in her lecture that inventories and training programs can be effective in partially capturing creativity. When used alone, however, these techniques cannot optimize creative performance.
"To fully capture creativity, the interrelationships between all factors associated with creative performance must first be understood," she said.
Clapham's research interests include employee assessment and development, bias in testing procedures and factors associated with creative performance. Her primary research focuses on examining methods of assessing creativity and techniques for promoting or developing creativity.
She has evaluated the psychometric characteristics of various types of creativity tests, compared the effectiveness of different approaches to creativity training, and tested conditions that may stimulate or inhibit creativity.
Clapham is collaborating with Dr. Javier Corbalan of the University of Murcia in Spain and Dr. Danilo Donolo of the National University of Rio Quarto in Argentina to validate credibility of a Spanish creativity test, the CREA, in an English-speaking population.
She received her bachelor's degree from Loyola University of Chicago, and holds a Ph.D. in Industrial and Organizational Psychology from Iowa State University.
Since joining Drake in 1990, she has taught courses in industrial psychology, organizational psychology, psychological assessment, intelligence, creativity and introductory psychology. In 2002, Clapham was the recipient of the Arts and Sciences Teacher of the Year award.
Clapham will deliver the 24th lecture of the series at Drake honoring Luther W. Stalnaker, former professor of philosophy and dean of the College of Liberal Arts from 1940-54. The series is a joint undertaking of the College of Arts and Sciences and its emeriti faculty. For more information, call 515-271-3939.