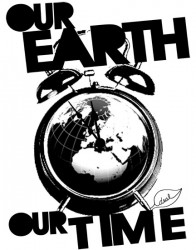 CONTACT: Lisa Lacher, 515-271-3119, lisa.lacher@drake.edu; Laura Ippen, laura.ippen@drake.edu
Drake University's Environmental Action League (DEAL) will celebrate Earth Week from Sept. 14-18, culminating in a speech by Des Moines Mayor Frank Cownie on Friday, Sept. 18.
Mayor Cownie's talk, which will address the importance of being politically involved in environmental issues, will start at 7 p.m. in the Reading Room of Cowles Library, 2725 University Ave. The speech and other Earth Week events are free and open to the public.
Earth Week also will feature many visiting organizations, as well as activities for Drake students, to raise awareness of environmental concerns. The schedule of events is as follows:
Friday, Sept. 18 — "Political Action Day"
Environmental organizations, including the Iowa Global Warming Campaign, Repower America and Oxfam will provide students with information about how to get involved politically, Helmick Commons, 10 a.m.–2 p.m.
Des Moines Mayor Cownie's speech, 7 p.m. Reading Room of Cowles Library.
For more information, contact Laura Ippen at laura.ippen@drake.edu.