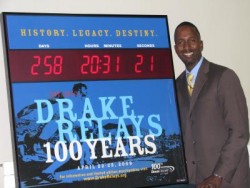 Brian Brown
Drake Relays director Brian Brown recently was inducted into the New Iberia Senior High School Athletics Hall of Fame.
Brown was a basketball and track standout at New Iberia where he captured the Louisiana state high school title in the high jump in 1983 and 1984 before graduating in 1984.
Brown had several scholarship offers for track but wanted to play basketball in college, attending Northwestern State which was the only school that gave him the option to compete in both sports.
After two years of both, Brown opted to concentrate solely on track. He won the NCAA indoor track championship in 1990, in addition to the 1989 U.S. outdoor championship, and was a bronze medalist at the 1988 Goodwill Games. He also was the 1997 Milrose Games champion and the runner-up at the 1998 U.S. Indoor Track and Field Championships.
"He is a great guy," said Joe McFarland, who is chairman of the New Iberia Hall of Fame committee. "When he decided to be a track guy, he became one of the top (high jumpers) in the country.
"(Brown) had a three to four year run where he was ranked in the Top 10 in the high jump (worldwide)," said McFarland.
But more importantly, Brown went on to finish his education, including his doctoral degree at the University of Missouri in 2005. Brown told McFarland that the biggest impact on his life has been his faith, family and friends.