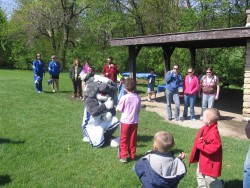 Head Start participants line up to meet Drake's mascot, Spike.
More children will have new learning opportunities, thanks to $694,172 of federal funding in support of Drake Head Start, Iowa's largest program dedicated to early childhood education.
The additional funding, which stems from stimulus packages passed by Congress, will help maintain current operations and provide additional training for and increase pay for Head Start teachers for the first time in four years.
In addition, two Head Start classrooms will be relocated to Newton and Ankeny.
The Newton program had been housed in Thomas Jefferson Elementary School, but the Newton School District needed additional elementary classroom space there. The school district helped fund the renovation of the new classroom at Emerson Hough Elementary School to meet the federally mandated standards for Head Start classrooms.
"It's a win-win situation," said Georgia Sheriff, Drake Head Start director. "We've had a long and wonderful partnership with the Newton School District."
Drake Head Start is also working to acquire funds to purchase a new playground for the Newton location that can used by all of the children at Emerson Hough.
One of two Head Start programs located at the Capital Park Early Learning Center in Des Moines was relocated to Ankeny. This move was made possible by a partnership among the Ankeny School District, the Neveln Center and the YMCA.
The new classroom, which will be open daily from 8:30 a.m. to 2:30 p.m., is adjacent to another Ankeny-area Head Start classroom in the Neveln Center.
"We evaluated the metro area to see where a need existed and where there was possible space for another classroom," Sheriff said. "Our original Ankeny classroom is funded primarily for children whose parents are working or going to school full-time and provides full programming all year. We found a need among children who didn't need a full day or year program."
Drake Head Start has applied for additional funding through federal stimulus money to restart programming for expectant mothers. Last year, Head Start services for pregnant mothers were shifted to other area nonprofit organizations to allow Drake Head Start efforts to focus on the growing needs of early childhood education in the metro area.
"The economic downturn over the past year has resulted in local funding cuts and reduced services for pregnant women in Polk County," Sheriff said. "New funding would allow Drake Head Start to partner with those other organizations to support 60 expectant mothers and begin services for infants and toddlers in Warren and Boone counties."
Drake University Head Start is a comprehensive preschool program that serves more than 1,000 children and their families through 40 programs in Polk, Boone, Warren, Marion, Jasper and Story counties. All families are welcome to apply to Drake University Head Start; priority is given to families with incomes at the poverty level or below.