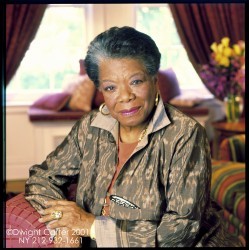 Maya Angelou
Maya Angelou, an award-winning writer, poet, journalist and activist hailed by many as one of great voices of contemporary literature, will present Drake University's next Martin Bucksbaum Distinguished Lecture at 7 p.m. Thursday, Oct. 8.
The lecture is free and open to the public in the Knapp Center.
A remarkable Renaissance woman, Angelou is also a dancer, actress, director, teacher and a three-time Grammy Award winner. She is best known for her series of six autobiographies, which focus on her childhood and early adulthood experiences.
She was among the first African-American women to hit the bestsellers lists with "I Know Why the Caged Bird Sings," a chronicle of her life up to age 16, which was published in 1970 to great critical and commercial success, bringing her international recognition and a nomination for a National Book Award.
Angelou, born Marguerite Johnson on April 4, 1928, in St. Louis, was raised in segregated rural Arkansas. She began her career in drama and dance, married a South African freedom fighter and lived in Cairo where she was editor of The Arab Observer, the only English-language news weekly in the Middle East.
In Ghana, she was feature editor of The African Review and taught at the University of Ghana. She lectures throughout the United States and abroad and has served as the lifetime Reynolds Professor of American Studies at Wake Forest University in North Carolina since 1981.
She has written 12 best-selling books and numerous magazine articles earning her Pulitzer Prize and National Book Award nominations. In 1993, Angelou became the second poet in U.S. history to have the honor of writing and reciting original work at the Presidential Inauguration when she recited "On the Pulse of Morning," at Bill Clinton's presidential inauguration.
In the sixties, at the request of Dr. Martin Luther King Jr., Angelou became the northern coordinator for the Southern Christian Leadership Conference and in 1975 received the Ladies Home Journal Woman of the Year Award in communications.
She received numerous honorary degrees and was appointed by President Jimmy Carter to the National Commission on the Observance of International Woman's Year and by President Ford to the American Revolutionary Bicentennial Advisory Council. She is on the board of the American Film Institute and is one of the few female members of the Director's Guild.
Although her books covering themes such as identity, family, and racism have been used extensively in the classroom, they have also been challenged or banned in schools and libraries across the country.
The Martin Bucksbaum Distinguished Lecture Series is made possible by a gift from Melva and the late Martin Bucksbaum, established by a substantial gift to Drake University in 1996. Mr. Bucksbaum was a member of Drake's governing board and a leader in the Des Moines community.