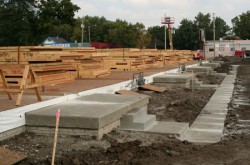 The construction site will soon transform into nine townhouses.
CONTACT: Lisa Lacher, 515-271-3119, lisa.lacher@drake.edu
A group of Drake University students is exploring the intersection of social media and journalism by covering the construction of nine townhouses in nine days at 21st Street and Forest Avenue.
More than 25 students in Drake's School of Journalism and Mass Communication are working as volunteers for Hubbell Realty Co.'s "9 Homes in 9 Days" project.
The project will produce nine townhouses for Anawim Housing, a Des Moines charity that helps low-income families find stable, safe and affordable housing.
The project kicked off Wednesday morning with volunteers marching to the building site. There, volunteer construction crews will be working around the clock until 3 p.m. on Friday, Sept. 18, when the homes will be revealed to the families who will live there.
It was natural for Hubbell Realty Co. to turn to Drake for help with the project. The townhouses are being constructed just down the street from the University. Jim Hubbell, chairman of Hubbell Realty Co., serves on Drake's Board of Trustees. Rachel Flint, Hubbell Realty Co.'s director of marketing, holds a master's degree in communication leadership from Drake.
Flint approached Drake faculty members Lori Blachford and Kelly Everling for help and together the three decided that a team of volunteer students could use Facebook, Twitter and YouTube to raise awareness of the project.
"Social media is an emerging journalism tool, but no one's figured out how to use it yet," said Blachford, the Peggy Fisher and Larry Stelter chair of magazine journalism. "All students are already on Facebook. What's exciting about this project is that students are using the expertise they have about social media and figuring out how to use these tools in a journalistic discipline."
While the students are volunteers and aren't getting course credit for their work, Everling says they're learning valuable lessons about social media that they'll be able to take back to their classes.
"Social media is a forgiving medium," said Everling, assistant professor of public relations. "If something doesn't work, you find out immediately and try something new. These students are learning a lot about what is and isn't effective."
In addition to the journalism students covering the project, about 10 Drake students are scheduled to do clean-up work near the building site as part of "Feel Good Friday," a weekly community service project organized by students. The students plan to volunteer at the site from noon to 3 p.m. Friday, Sept. 11.
While building crews work 24 hours a day, Drake journalism students plan to be at the site from 7 a.m. to 6 p.m. each day. Students are "tweeting" three times an hour and creating at least 10 Facebook posts and producing at least three YouTube videos each day.
To follow the "9 Homes in 9 Days" project and view the work of the Drake students, visit these Web sites:

Twitter allows only 140 characters per tweet and the YouTube videos are two minutes or less in duration.
Blachford says one of the things the students are trying to figure out is how to tell stories within the constrictive parameters of the mediums.
"Social media is good at spreading the word quickly and linking people to more information on a subject," Blachford said. "We hope that some of the students write about the stories they encounter on their blogs."
Students also expect to discover which types of equipment work best when using social media to cover a news story. In addition to laptop computers and cameras, students will use their cell phones to post updates, take photos and shoot video.
"Finding out if non-traditional journalism equipment works in this setting is part of this learning opportunity," Everling said.
In addition to learning about the possibilities of social media as journalism, this project is an opportunity for the students involved to give back to the community.
"We want our students to be engaged citizens as well as good journalists," Blachford said.
The positive impact the nine townhomes will have on the families can't be measured. Each family has a yearly income of $13,000 a year or less and at least one child.
"We're delighted our students get to play a part in an important project," Everling said. "Not only are the students following a significant news story, they're part of it."