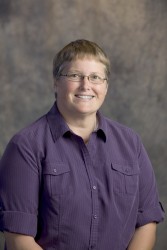 Lori Blachford
Lori Blachford, Drake University's new Fisher-Stelter chair of magazine journalism, is walking a path much like the one she encourages her students to take.
Blachford, who began her new position on Aug. 24, started out as a newspaper reporter, sports writer and editor after graduating from the University of North Dakota with an English degree.
She was a sports copy editor at the Des Moines Register before she moved into the magazine world in 1991.
She enjoyed an 11-year career with Meredith Corp. in Des Moines and served as copy chief and managing editor for Country Home magazine.
At that time, magazine journalists weren't talking about blogs or Twitter or Facebook. However, Blachford continues to freelance, has embraced the new media world and kept an open mind.
And that's exactly what she hopes her students will do.
"The goal is for students to graduate and not feel licensed to join a media company right away, but to see all the different opportunities that exist within communications," said Blachford, who joined Drake in 2002, lured by the reputation of Drake's journalism school and learning environment.
"Whether it is a newspaper, nonprofit or insurance company — the world needs good communicators and people who have strong new media tools and skills."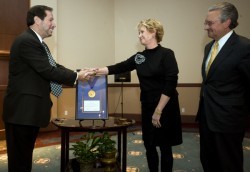 Drake President David Maxwell expresses his appreciation to Peggy Fisher and Larry Stelter at a reception honoring the couple for their gift.
Blachford applauds longtime Drake supporters — alumna Peggy Fisher and her husband, Larry Stelter — who established the magazine chair position with a $1.5 million gift. The couple own The Stelter Co., an Urbandale-based national gift planning company that produces marketing materials for nonprofit organizations.
"The confidence that Peggy and Larry are showing with their investment in the program and our students is wonderful," Blachford said.
She said loyal alumni and sponsors, including Meredith Corp., are part of the reason why Drake's magazine program offers an environment for students in which they can learn the new tools and use equipment they'll find in the work world.
"Because of the support of so many, we are able to supply our students with an environment where they can produce a professional product," Blachford said.
When asked about taking the reins of the program, Blachford said, "I feel like I've inherited incredible riches."
The pot of gold is the magazine program shaped by Patricia Prijatel, longtime director of the E.T. Meredith Center for Magazine Studies and professor of magazine journalism.
"Pat's influence has been felt and will continue for a long time to come," she said. "She really was a pioneer in knocking down some walls so we could create programs that integrate different areas of the school that will help our students become well-rounded journalists. And, around here, success breeds success."