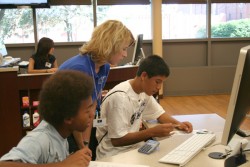 Darcy Doty helps two high schoolers with a math problem during the program.
Before the school year even started, a group of Des Moines high schoolers visited Drake to explore a possible future at the University and a career in pharmacy through Drake's "Discover Drake, Explore Pharmacy" program.
Ten high schoolers, including minorities, from Des Moines'
GEAR UP
(Gaining Early Awareness and Readiness for Undergraduate Program) came to Drake on Aug. 11 to tour the University and learn about the pharmacy field.
"The kickoff for the 'Discover Drake, Explore Pharmacy' was a great opportunity for students to experience pharmacy firsthand and hear about career opportunities within the profession," said Renae Chesnut, associate professor of pharmacy practice.
"We are excited to increase diversity within the profession and be able to make pharmacy a possibility for students who may not have thought about it as a viable career option."
The students took part in hands-on lab experiences and learned asthma inhaler techniques, including ways to advise patients on how to use different kinds of inhalers.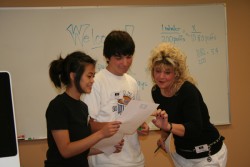 Two students demonstrate how to use an inhaler to Instructor Janalyn Phillips and the other students.
Two students showed the group how to use one of the inhalers much like they'd explain the process to a patient. One explained, "sometimes you need to pump the inhaler a few times — just like when you use a pen and it doesn't always work the first time."
"Thanks to technology, we're able to spend more time with patients and we have more time to make sure they know how to use their medications," said Janalyn Phillips, adjunct instructor of pharmacy practice and pharmacist at Walgreens, who led the students in the lab experience.
Students also participated in activities that introduced them to undergraduate college studies, the world of pharmacy and pharmacy education. They also interacted with Drake pharmacy students who serve as mentors for the high schoolers, who will return to campus later this fall.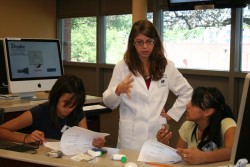 Drake student Lauren Gokie works with two high schoolers.
"It was exciting to see high school students' enthusiasm as they participated in the sessions throughout the day," said Chesnut, who also also serves as associate dean for academic and student affairs in the College of Pharmacy and Health Sciences.
"The day was designed to give them a better understanding of the role of pharmacists through hands-on experiences. One student even said, 'I felt like a pharmacist today!'"
As participants in the Drake program, students will visit campus one day each summer as well as one evening each semester. On occasion, the students' parents or guardians will be invited to campus to learn about financial aid and parenting college-bound students, among other topics.
The program is made possible by a grant from Walgreen's with the purpose of developing, implementing and supporting programs that will have a positive impact and gain more diversity within Drake's pharmacy student body.