Many alumni stopped by the tent with family and friends to update their contact information and receive a Drake pennant.
Drake hosted more than 3,000 fans and alumni who stopped by the University's tent at the Iowa State Fair to get free disposable cameras and snap souvenir photos in several "virtual" Drake scenes.

Drake Day showcased many ways to "Picture Yourself at Drake" on Saturday, Aug. 15. The tent featured life-size photo cutouts representing different aspects of Drake life as well as a 25-foot-tall Spike the Bulldog.
Drake student-athletes and coaches from the track and field, volleyball and women's soccer teams also visited the tent at various times to sign free sports posters.
In addition, Drake pharmacy students conducted heartburn screenings for fairgoers at the tent. In true fair fashion, the screenings included free samples of Prilosec on a stick for those suffering from heartburn after indulging in the fair's vast array of fried foods.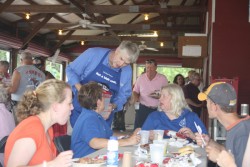 Michael J. Renner interacts with visitors at the Iowa Pork tent.
Also at the fair, now Drake Provost Michael J. Renner immersed himself in Iowa and fair culture by serving as a guest chef at the Iowa Pork Tent last week.
Drake President David Maxwell also was featured as guest chef at the Iowa Pork Tent on Friday, Aug. 21.
In addition, Drake had a display for the University located in the William C. Knapp Varied Industries Building throughout the fair.