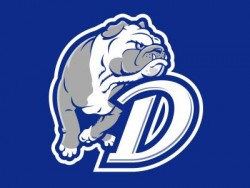 Drake University athletics fans can now watch Bulldog teams and support Drake's athletic program live from their computers.
Select Drake athletic events will be streamed live via the Internet on the new True Blue TV, a broadband video and audio channel that offers live and on-demand content about Drake athletics.
A variety of football, volleyball, soccer, men's basketball, women's basketball and track events will be streamed live on True Blue TV. The channel will also feature on-demand game highlights, full game replays, coaches' shows, press conferences and interviews with players.
In addition, the Drake Toolbar is a free download and service that can be added to Internet Explorer and Firefox Web browsers. Each time the Yahoo!-powered box on the toolbar is used to search the Web, a donation is made to Drake Athletics. The Toolbar will help raise money for university athletics.
All registered Drake Toolbar users are eligible for monthly prizes. There is no charge and no ad banners associated with the toolbar.