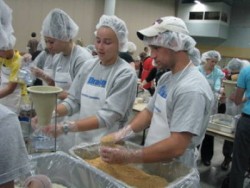 The Drake teams helped bag 5,400 meals in 10 minutes.
Members of the Drake men's soccer team and the women's soccer and volleyball teams took time out from their preseason camp to participate in the second annual Meals from the Heartland Cup at the Iowa Events Center on Aug. 18.
Seventeen teams competed in the event, which was bracketed into divisions consisting of high school, college, business and nonprofit service organizations.
The Drake men's soccer team finished second in the college division. A total of 5,400 meals were packaged in 10 minutes at the competition.
The pre-packaged meals consist of rice, soy, flour, dried vegetables and a vitamin tablet. Each package feeds a family of six and costs $.25 to produce. The meals are shipped and provided to the hungry around the world.
Drake athletic director Sandy Hatfield Clubb, who was co-chairman of the event, was pleased with the turnout.
"The Meals from the Heartland Cup brings a new meaning to the concept of competition," Hatfield Clubb said. "In a short 10 minutes, 150 competition-inspired participants bagged meals that will feed over 5,000 people.
"It is an honor and a privilege for Drake Athletics to be involved in this extraordinary humanitarian effort. Bulldog student-athletes represented the athletics department proudly, and congratulations to the men's soccer team who, for the second year running, finished in the top of the competition."
The Meals from the Heartland Cup is the media kick-off event for the main packaging event — Meals from the Heartland — which took place from Sept. 3-7 at Hy-Vee Hall in Des Moines.
Officials are expecting thousands of Iowa volunteers with the goal of packaging more than 4 million meals for the world's hungry population.
"It is good for our team to give back to the community," said Lindsay Schryver, a senior on the Drake volleyball team. "It also shows the big picture in helping people all around the world, while also coming together as a team."
"All of our student-athletes are extremely blessed to have the opportunity that they have to play Division I athletics," said Sean Holmes, Drake head men's soccer coach. "Anyway we can get our guys and gals back in the community, like participating in Meals in the Heartland, is great, for them to show their appreciation for everything they have been given."
Last March, student-athletes from Drake gathered at the Drake Knapp Center to package 12,528 meals in an hour for Iowa's homeless.