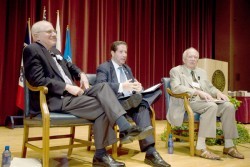 William Taubman, David Maxwell and Sergei Khrushchev share the stage.
A complex, contradiction-filled portrait of Soviet leader Nikita Khrushchev was offered recently at Drake University by two of the legendary man's biographers, one of whom is his son.
The lively, insightful discussion that drew a crowd of 650 to Sheslow Auditorium was part of Drake's observance of the 50th anniversary of Khrushchev's Iowa visit.
The event fulfilled what Drake President David Maxwell described in his introductory remarks as the university's responsibility to be a place "where the community comes together to talk about important issues of the day; where diversity of ideas and views are accepted and encouraged."
Scholar William Taubman, a longtime friend of President Maxwell, began the evening with a lecture based on his Pulitzer Prize-winning biography, "Khrushchev: The Man and His Era." He was later joined in a brief discussion with Maxwell and Khrushchev's son, Sergei Khrushchev, a senior fellow at the Watson Institute for International Studies at Brown University and author of several books about his father.
Nikita Khrushchev came to Iowa in 1959 to see Roswell Garst, who had invited him to tour his Coon Rapids farm in order to share with the Soviets the advances that Americans had made in mechanized grain production, especially hybrid corn.
Iowa was just one stop on Khrushchev's tour of the United States. It was the first time a Soviet leader had been invited to America, and much of the trip was stressful for Khrushchev.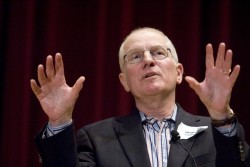 William Taubman emphasizes his point with gestures.
The Iowa stop was a "balm to Khrushchev's soul, especially his visit to the Garst farm," said Taubman, the Bertrand Snell professor of political science at Amherst College.
Taubman then described Roswell Garst as smart, earthy and cantankerous, adding that Khrushchev liked him because the Iowan talked back to him and engaged him in debate.
Taubman told an amusing story, detailed in his book, about Garst's visit to the Soviet Union in 1955. He asked Khrushchev how the Russians could know so little about American agriculture when they had managed to steal the atomic bomb in three weeks. Khrushchev immediately corrected Garst, informing him that it only took two weeks: "You locked up the atomic bomb, so we had to steal it. When you offered us information about agriculture for nothing, we thought that might be what it was worth."
The Iowa experience was important because it helped Khrushchev accept that the United States was way ahead of the Soviet Union in many things, particularly agriculture. The Soviet leader knew his country would "have to move mountains to catch up with the U.S.," Taubman said.
Sergei Khrushchev bears a striking resemblance to his father.
Much of Taubman's talk focused on his description of Khrushchev as "one of the most important political leaders of the 20th Century and also one of the most contradictory and colorful."
Taubman noted how Khrushchev had humble origins, but became part of Stalin's inner circle. He was complicit in Stalin's purges, and played a role in the deaths of thousands of people. But he went on to de-Stalinize the Soviet Union, releasing political prisoners and pardoning the alleged crimes of those killed during Stalin's rule. He gave "Communism a human face, but his reforms were real," Taubman said.
He reduced taxes for farmers, raised prices for what they produced and encouraged individual farm plots. He expanded housing, eased restrictions on artistic expression and reformed education. He also ignited the Cuban missile crisis, an act that demonstrated his erratic, confounding decision-making.
"Only he would have put those missiles in Cuba," said Taubman. "From everything we know about the attitudes of the people in the leadership who were the main advisers on things American, these people were aghast to learn this was going to happen."
Based on his research, Taubman suggested the "highs and lows" of Khrushchev's personality may have played a role in his iconoclastic style of leadership.
Taubman said Khrushchev believed communism would improve the lives of Russians, but that he was haunted by his actions under Stalin's regime. This guilt and shame led him to denounce Stalin.
Taubman said Khrushchev was once asked if he had any regrets, and the former Soviet leader reportedly replied: "The blood. My arms are up to my elbows in blood. It is the most terrible thing that lies in my soul."
When asked about his father's mental state, Sergei Khrushchev said, "I never saw the depression of my father. He would be angry. He could be sad. But he was never in depression."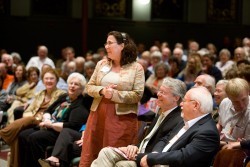 Rachel Garst asks a question about her grandfather's role in ending the Cold War.
It seemed appropriate that one of the last comments of the night came from a member of the Garst family, who told Khrushchev: "My name is Rachel Garst and I was raised to believe my grandfather singlehandedly stopped the Cold War."
Khrushchev explained how the relationship between Roswell Garst and his father developed in the context of the Cold War, concluding with, "Your grandfather was one who made a hole in the Iron Curtain. . . He didn't end the Cold War. He was the person who started the road to the end of the Cold War."
The lecture, part of the AViD Series sponsored by the Des Moines Public Library, was preceded by a special dinner hosted by Drake.
Guests of honor included Sergei Khrushchev and a Russian delegation of political and business leaders visiting Iowa for the 50th anniversary of Khrushchev's visit. A highlight of the dinner was President Maxwell's welcome toast, which he delivered in Russian and was translated into English by an interpreter.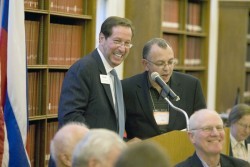 President Maxwell presents a traditional welcome toast in Russian.
President Maxwell holds a bachelor's degree in Russian area studies from Grinnell College and master's and doctorate degrees in Slavic languages and literatures from Brown University.
He was a Fulbright Fellow in Moscow from 1970-71. He first toured the Soviet Union in 1962 as a band boy for the Benny Goodman Band, which included his father, legendary jazz musician and lead trumpet Jimmy Maxwell. During the tour, Maxwell had the opportunity to meet Nikita Khrushchev briefly at the U.S. Embassy's 4th of July party.
"Bill Taubman's talk, and Sergei Khrushchev's contributions to the discussion, provided powerful insights into the life of one of the 20th century's most important figures," President Maxwell said.
"I think that we all came away from the evening — as one does from reading Prof. Taubman's book on Khrushchev — with a much more nuanced sense of the remarkable contradictions in Khrushchev's personality and actions, with a much more nuanced sense of the incredible complexity of a man who appeared, from our distant perspective in this country, to be so simple.
"For those of us in attendance, it was an historic event in commemoration of another historic moment–Khrushchev's visit to Iowa in 1959."