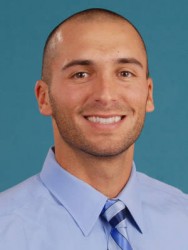 Jimmy Borendame
Jimmy Borendame (BOAR-en-DAME), an assistant coach the last five seasons at Virginia Tech, including this past year serving as associate head coach, has been named head men's tennis coach at Drake.

This past season, the nationally-ranked Hokies posted a 15-8 mark en route to their third consecutive NCAA Tournament appearance, where Virginia Tech advanced to the second round after defeating UNC Wilmington, 4-2. The Hokies twice achieved a program-high national ranking of No. 21 in the ITA polls.
Borendame was named the Intercollegiate Tennis Association (ITA) Mideast Regional Assistant Coach of the Year in 2008, becoming one of only eight assistant coaches nationwide to receive the honor.
During his tenure in Blacksburg, Va., he spearheaded recruiting, planning team travel, managed NCAA compliance, assisted with budget management, coordinated fundraising via Advantage Hokies (tennis booster club) and oversaw the strength and conditioning program.
"Jimmy Borendame comes with an excellent coaching pedigree, including competitive and recruiting success and demonstrates his fit with the Drake Athletics commitment to the holistic student-athlete experience," Drake associate athletic director Heather Weems, who chaired the search committee, commented. "We are excited to have Jimmy join the Drake team, and know he has the ability to elevate the strong tradition in men's tennis."
"I would like to thank Sandy Hatfield Clubb, Heather Weems and the entire Drake staff for this opportunity," Borendame said. "I'm very excited to lead the Drake men's tennis program. Coach Hodges (Chase) did an extraordinary job in building the program and I plan on continuing to take the steps to further that development."
He earned a bachelor's degree in finance from Butler University in 2002 and a master's degree in sport management from West Virginia University in 2003.