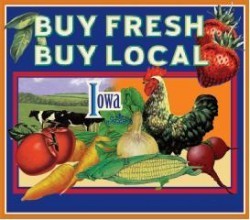 Drake University will co-sponsor Harvest Happy Hour to raise support for local farms and the
Buy Fresh Buy Local
program on Thursday, Sept. 17, at Splash restaurant, 303 Locust St. in downtown Des Moines.
The event, which is open to the public, will take place from 4 to 8 p.m. Small plates of local foods prepared by Splash's chef will be available for $5 along with $5 drinks. Door prizes will be given away and BFBL staff and volunteers will be present to share the latest information about local foods in Greater Des Moines.
With each purchase of a drink or food item, Splash will make a donation to Buy Fresh Buy Local. Supporters also can make a $10 donation directly to BFBL and receive two coupons good for small plates of local foods at the Harvest Happy Hour.
The event is also part of the Buy Fresh Buy Local Food Month celebration in September. For more information, visit the
Web site.
In addition, donations can be made at the BFBL booth at the Des Moines Downtown Farmers' Market on Saturday, Sept. 5.
"This is a great opportunity to celebrate a successful 2009 Buy Fresh Buy Local campaign and we appreciate Splash hosting this fundraising event," said Matt Russell, coordinator of the Greater Des Moines BFBL campaign and a staff member at the Drake Agricultural Law Center.
BFBL is committed to growing the local food movement. More than 1,500 consumers have taken the pledge to buy fresh, local food every week throughout this growing season. Consumers can take the pledge online today at
https://www.law.drake.edu/centers/agLaw/pledge.aspx
.
"This is a great opportunity to stay connected, especially if you support local foods," Russell said. "Taking the pledge is beneficial for both the consumers and local farmers."
More about Buy Fresh Buy Local
The Drake University Agricultural Law Center's Buy Fresh Buy Local food marketing campaign, which began in 2004, is building a network of local farms, restaurants, food retailers and processors to expand the production and consumption of more locally grown foods in the seven-county region surrounding Des Moines — Polk, Boone, Dallas, Jasper, Madison, Marion and Warren counties. The campaign also includes Iowa farms from more distant counties that sell their food in the Greater Des Moines market.