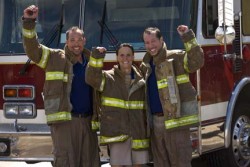 Jeff Clubb, Sandy Hatfield Clubb and David Maxwell show their Team Drake spirit.
Drake University President David Maxwell teamed up with Drake Athletic Director Sandy Hatlfield Clubb and her husband, Jeff, last Saturday to compete in the Firefest 2009 Water Fight.
The Water Fight, which took place on Market Street in downtown Des Moines, involved teams spraying water from fire hoses to propel an empty keg on a cable suspended about 20 feet above the street.
Each team tried to drive the keg to the opposite end of the wire, where it would be suspended over the heads of members of the opposing team.
Proceeds from the Water Fight and other Firefest activities, including a 5K run at the Iowa State Fairgrounds, will be used to assist firefighters.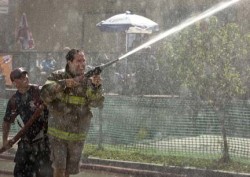 President Maxwell takes aim with the hose in downpour conditions.
Each team in the Water Fight competed in three rounds with a different team member holding the hose in each round.
After Sandy Hatfield Clubb was eliminated from the Drake team,
President Maxell found himself challenging Jeff Clubb, a former
firefighter in Scottsdale, Ariz.
Despite Jeff Clubb's professional experience, Maxwell finished third and Clubb came in fourth.
"It was a lot of fun for a good cause, even though we all got absolutely drenched," Maxwell said. "We had a ball."
View more photos of the Water Fight in an online photo gallery.