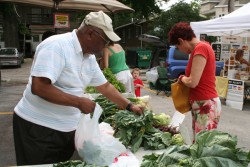 The Drake Neighborhood Farmers' Market on Wednesday, Sept. 2, will host representatives from the Iowa Diabetes and Endocrinology Research Center.
The center will present information and will talk with patrons about a current study involving individuals with Type II diabetes.
In addition, representatives from Ramsey Village will provide information about its retirement living services. Options include independent living, residential care, memory care assisted living and a secured unit for individuals with Alzheimer's.
Children also can participate in the Kids' Veggie Toss Game where they can win a prize for hitting a garden target with a veggie bean bag.
The market will be open from 4 to 7 p.m. every Wednesday through Sept. 30 in the parking lot of First Christian Church, 2500 University Ave. Free parking is available for shoppers across from the market on the east side of 25th Street.
More than 20 vendors will offer Iowa-grown produce, baked goods, snacks, meals, sandwiches and crafts. Four vendors will have wireless equipment to accept bank debit cards, VISA, Discover and MasterCard credit cards, as well as Electronic Benefit Transfer cards.
IFMNP/WIC checks and Senior Farmers' Market Nutrition checks are welcome at the market.
Entertainment will be provided weekly, as well as educational and informative guests. The market has a health tent, where free blood pressure checks and blood sugar tests will be available every week.
The market is a nonprofit, community project sponsored by First Christian Church, the Drake Neighborhood Association and Drake University. For more information, call Ginny Gieseke at 515-277-6951 or visit the market's
Web site
.
Upcoming market events will include:
For Your Health — members of the Basilica of St. John will offer information about free and confidential resources for pregnant women
Talk with representatives from the Iowa Diabetes and Endocrinology Research Center, which is conducting studies involving people with Type II diabetes
Free face painting and tattoos
Free Books for Kids — the Drake University School of Education will provide free books for all children who stop by
For Your Health — representatives from Planned Parenthood of Greater Iowa will provide information about its family planning services
Emergency Food Pantry will accept donated produce, baked goods, canned and boxed meals, or cash. Patrons will receive a 100 percent cotton t-shirt for a $5 donation.
Free honey lemonade from 3 Bee Farms
For Your Health — representatives from The National Alliance of the Mentally Ill will offer information about mental health, as well as free, confidential depression screenings and referrals
Creative Fusion Dance Company — join in the beauty and fun of belly dancing, which will be held in 15-minute intervals beginning at 4:30 p.m.
Harvest Festival — vendors and patrons will celebrate the year's bounty of fresh, Iowa-grown produce, as the Farmers' Market ends another great season
For Your Health — representatives from Visiting Nurse Services will discuss the Healthy Start and Empowerment Project, which provides support for pregnant women and parents of young children
US Census 2010 — market patrons will talk with representatives from the Census Bureau about the census and why it is important
Free piece of apple pie and cider
Free cookie decorating for kids