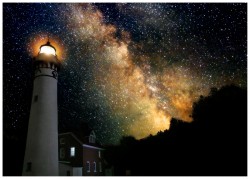 A photo of the Milky Way by Drake student Ian Weller, his father and John Rummel.
In most of the United States, the night sky is polluted by light and stars are difficult to view. The wonder of the galaxy, which inspired the ancients to create constellations, has become something most people can't see.
It's looking into the unknown that fascinates Ian Weller, a Drake University sophomore in international relations from Waunakee, Wis.
"I became interested in astrophotography because most people never get to see everything in the night sky," Weller said.
This summer, his hobby turned into a chance to help the Friends of the Apostle Islands National Lakeshore. The mission of the organization is to promote an appreciation for and a preservation of the natural environment and cultural heritage of the Apostle Islands, located on Lake Superior in northern Wisconsin.
Weller, his father, Mark, and friend, John Rummel, were commissioned to photograph the Milky Way at the lighthouse on Outer Island, 30 miles off the coast of Wisconsin. The photograph was made into a print and sales benefit Friends of the Apostle Islands.
No longer inhabited, the lighthouse station where the crew camped does not have running water or electricity. Car batteries powered camera batteries and other equipment.
There is only one week during the year that provides perfect conditions for photographing the Milky Way. During the week of June 21, there is a new moon and the brightest spot of the galaxy is out of the constellation Sagittarius. Other factors, such as clouds, humidity, airplanes and satellites, can spoil a shot.
The final print is composed of two shots taken with four-minute exposures. The first was an image of the Milky Way. To create this image, the camera was mounted on a telescope with a slow-motion drive that cancels the effects of the Earth's rotation, which would otherwise blur the exposure.
In the second photo, the crew used flashlights to illuminate the lighthouse.
"Over the four-minute exposure, we ran the flashlights up and down the lighthouse because it was the only way to light the shot," Weller said.
Interior Secretary Ken Salazar visited the Apostle Islands on Aug. 8 as a guest of Rep. David Obey. Obey presented the first copy of the print to Salazar.
"I like to bring these images to people who haven't seen them before," Weller said. "It's an honor that our photo was given to the Interior Secretary."
The limited edition print is available through Friends of the Apostle Islands National Lakeshore at 715-779-3397, extension 444.