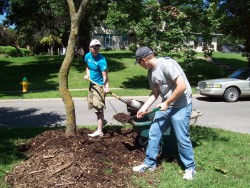 New students put mulch around trees at 31st Street and Kingman Boulevard.
In their first week on campus, 550 first-year Drake students made the University's neighborhood their own last weekend by devoting many hours to community service in the area.
"I am so proud of how quickly our new students have adopted the Drake Neighborhood, and the neighbors have adopted our students as well," said Dolph Pulliam, director for community outreach at Drake.
Students cleaned up the neighborhood, did landscape work and renovations at the Bernie Lorenz Recovery House on Kingman Boulevard. Students also spent time with residents at Brookedale Ramsey Village on 27th Street.
"The members of the Drake Neighborhood Association continue to praise our first-year students for their willingness to volunteer their time doing these very important community service projects," Pulliam said.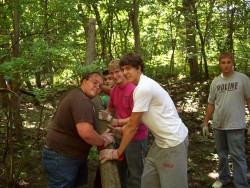 Students haul a heavy tree limb out of the Witmer Park ravine.
Students also interacted with area residents and their children during volunteer hours.
Other students pulled on heavy gloves as they climbed down into the deep ravine in Witmer Park and then worked together to carry out dead tree limbs and other debris, including small refrigerators and sinks.
"Neighbors said they enjoyed watching hundreds of our students going through the neighborhood as they walked to their volunteer assignments," Pulliam said.
The projects are part of Drake's
Welcome Weekend
, which was held from Aug. 19-22. This marks the sixth year that the projects have been part of the new student week.
"I hope the enthusiasm on the part of our students," Pulliam added, "and the neighbors will continue for years to come."