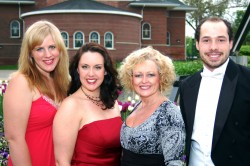 From left to right: Chelsea Smith, Christine Blanner, Leanne Freeman-Miller and Sean Buhr.
Two Drake University vocal music instructors and two students recently returned from a trip to Shanghai, China, where they performed with the Northeastern American Art Troupe and the Bravura Philharmonic Orchestra.
The group, which spent 10 days in China, consists of:
Leanne Freeman-Miller, associate professor of voice
Christine Blanner, teaching artist in voice
Sean Buhr, senior vocal performance major from Fort Dodge, Iowa
Chelsea Smith senior vocal performance major from Ankeny, Iowa
The musicians gave multiple performances, including a concert during the opening ceremony of the 2009 Shanghai International Youth Interactive Friendship Camp. The event draws 1,500 youths and leaders from more than 20 countries and is sponsored by the Shanghai People's Association for Friendship with Foreign Countries.
The concert was held at the Shanghai Oriental Art Center, one of the largest and most significant architectural projects recently completed in China.
"The art center was the most gorgeous, state-of-the-art venue that I have ever performed in," Freeman-Miller said.
The art center houses three performance halls and resembles a butterfly from an aerial view. At night, the building is lit with clear and blue lights, making it one of the most beautiful buildings in Shanghai.
Performances were also given at the Pudong Youth Palace and the Shanghai Hai-Yin Music School.
"I am proud of the way we represented Drake, and of course, the work by my former student, Christine, and current students Sean and Chelsea, who received praise and positive feedback throughout the trip," Freeman-Miller said. "We hope that serious music students in China will look our way as they consider their future music education."
Freeman-Miller and Blanner also met and dined with Yu Jianhau, secretary general, and Yan Weixiang, executive council member division chief, of the Shanghai People's Association for the Friendship with Foreign Countries.
Drake music department compact discs and other memorabilia were presented to the diplomats and to the teachers and students at the Hai-Yin Music School.
In addition to performing, the group toured China, attending a performance by the Shanghai Acrobats, visiting ancient temples and pagodas, taking a cruise on West Lake in Hanzhou and visiting a silkworm factory in Suzhou.
"The trip was an enriching, life-altering experience for all of us," Freeman-Miller added. "I am grateful to Joe Lenz, dean of the College of Arts and Sciences, for his support of this trip. It was an honor to represent Drake in this cultural exchange opportunity."