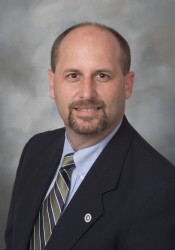 Tom Delahunt
Tom Delahunt, vice president for admission and financial aid at Drake University, painted a picture of Drake's financial situation in the down economy during two KCCI Channel 8 segments last week with News Anchor Kevin Cooney.
The two "Figuring Out College Finances" shows focused on the financial situations for private colleges and how the economy has impacted schools.
Delahunt explained that Drake started looking at possible scenarios five months ago and came up with a plan to share with faculty, staff and students. He said, "Luckily, we're seeing the likely scenario."
This year Drake saw record applications for first-year and transfer students and enrollment is at or above the target, Delahunt said.
View the video clips online at the following links: