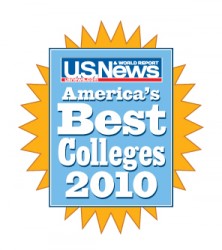 CONTACT: Lisa Lacher, 515-271-3119,
lisa.lacher@drake.edu
Drake University received the second highest score for academic quality and improved its overall ranking from fifth to third among Midwest master's universities in the annual college rankings released today by U.S. News and World Report magazine.
In the "Great Schools, Great Prices" category, Drake moved up to sixth place after ranking eighth last year, according to the magazine's 2010 issue of "America's Best Colleges." This is the 10th consecutive year that Drake has been listed in this category.
The rankings show that 57 percent of Drake students receive grants based on financial need. Drake students also receive tens of millions of dollars each year in scholarships based on academic merit, which are not calculated in this category.
Drake's score for academic quality (peer assessment) increased to 4.0 this year as compared to 3.9 last year. Only one of the 142 Midwest universities that provide a full range of undergraduate and master's programs scored higher than Drake did in this category.
Drake also had the fourth highest score in the entire country for academic quality among the 548 master's universities in the nation ranked by U.S. News & World Report.
Drake also had the fourth highest score for academic quality among master's universities ranked across all regions of the country.
"We are delighted, of course, to be recognized as one of the best institutions in the Midwest in both academic quality and value," said Drake President David Maxwell. "It is important to note, however that we do not view these rankings as a goal in and of themselves — they are a consequence of our efforts to provide the exceptional learning environment that we promise our students."
The rankings also show that the academic profile of students in Drake's entering class has improved while the University has become more selective in its admission of first-year students.
For example, the percentage of entering students in the top 25 percent of their high school class rose to 73 percent, up from 69 percent the previous year. At the same time, Drake's acceptance rate for entering students dropped from 78 percent to 69 percent, an all-time low.
"It is wonderful that the extraordinary value of a Drake education attracts such strong students," said Drake Provost Michael J. Renner. "Drake's outstanding faculty and staff are committed to creating an exceptional learning environment.
"The opportunity for students to work collaboratively with our faculty in research laboratories and studios, and to gain real-world experience through guided internships, is exactly the preparation they need for today's world," Renner added. "Ratings systems are imperfect, but draw on some of the same characteristics that make Drake a nationally recognized university."