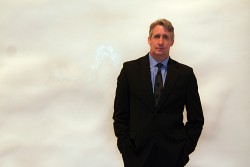 Jeff Fleming
Jeff Fleming, director of the
Des Moines Art Center
, will discuss the new downtown John and Mary Pappajohn Sculpture Garden and paint a picture of his success in a talk as part of Drake University's fall lunch series on Wednesday, Sept. 2.
The Let's DU Lunch event, which is open to the public, will be held at All Play, 615 Third St. in downtown Des Moines. Networking begins at 11:30 a.m., followed by lunch and the program at noon.
Fleming was appointed director of the center in the fall of 2005 after serving as acting director, deputy director, senior curator and curator since 1999. In his position, Fleming aims to focus on connecting with diverse communities, presenting challenging art, upgrading the physical facilities and creating a solid financial ground for the center.
Previously, he was chief curator of exhibitions at the Southeastern Center for Contemporary Art in Winston-Salem, N.C.
Fleming holds a bachelor of fine arts degree from East Carolina University in Greenville, N.C. and a master of fine arts degree from Pratt Institute in Brooklyn, New York.
His numerous exhibition projects have focused on presenting the first one-person museum shows for younger, international artists. These artists include the American artists Tom Sachs, John Currin, Ellen Gallagher, Maya Lin and Tom Friedman, as well as the British artist Cecily Brown, the German artist Christian Jankowski and the Chinese artist Yan Pei Ming.
Other group exhibition projects have included "Magic Markers: Objects of Transformation"; "Aisle 5"; and "My Reality: Contemporary Art and the Culture of Japanese Animation."
More about Let's DU Lunch
"Let's DU Lunch" will continue on Wednesday, Oct. 7, with a lecture by Mark Phelps, Drake men's head basketball coach and Drake Athletic Director Sandy Hatfield Clubb. Drake alumnus Dan Cosgrove, vice president for Biotech Business Development at Pioneer Hi-Bred, will conclude the fall series on Wednesday, Nov. 4.
Cost is $17 per lunch or $42 for all three luncheons for those who register for the entire series. Reservations are recommended by Aug. 26 due to limited seating. Drake University and the Greater Des Moines Partnership sponsor all luncheons.
For more information or to register for Let's DU Lunch, contact Betty See in the Office of Alumni and Parent Programs at 515-271-2500 or
betty.see@drake.edu
.