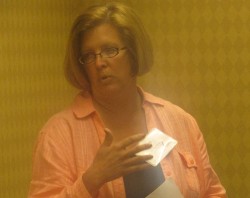 Assistant Professor Jill Van Wyke presents a discussion on editing.
"What is happening to journalism?" This question is on the minds of students and professors at journalism schools across the country as the industry continues to evolve.
With newspapers closing and non-traditional forms of media gaining prominence, four Drake journalism faculty members participated in the ongoing conversation at a recent conference titled "How to Thrive and Survive."
The following professors attended the Association for Education in Journalism and Mass Communication's (AEJMC) annual convention in Boston:
Lee Jolliffe, associate professor of journalism
Janet Keefer, associate professor of journalism
Jill Van Wyke, assistant professor of journalism
Lori Blachford, the Peggy Fisher and Larry Stelter chair in magazine journalism
Drake students were also represented at the convention as they were recognized for their work in an award ceremony. View a list of award winners
online.
Presentations focus on journalism and government
Keefer participated in a pre-conference workshop titled, "State of Deception: The Power of Nazi Propaganda." It was sponsored by the AEJMC history and media and society divisions and the United States Holocaust Memorial Museum, which has an exhibit of the same name on display.
She also moderated a panel and discussed "Words and Actions: Contexts and Consequences of Propaganda," a Fred Friendly production that examines the roles of journalists and public officials when confronting possible genocide.
Taped at the U.S. Holocaust Memorial Museum, the video includes:
Christiane Amanpour of CNN
Bob Schieffer of CBS News
Stephen Rapp, Drake Law School graduate and expert on international criminal law who was recently appointed Ambassador-at-Large for War Crimes Issues
In addition, Jolliffe submitted a presentation titled, "Resistance or Accessibility: Mediation of Event- and Source-Driven Agendas," for a panel focused on how journalists set agendas.
Based on interviews at the 2008 Democratic National Convention, Jolliffe's presentation explored the thoughts of reporters as they set agendas in political coverage. She also focused on how external forces, such as a candidate's campaign or political convention, attempt to shape media agendas.
Reporters told Jolliffe that audiences are a key factor in their coverage — as strong an influence as any politician or interest group.
She also created "Teaching on the Fly: Out of the Classroom and Into the Travel Seminar," a panel with best ideas from teachers and one of the students who went on the Democratic National Convention trip.
The importance of editing
Van Wyke participated in three panels at the convention, including two on editing. The first was a pre-conference panel exploring the future of editing. She said changes in the industry — from newspapers laying off copyeditors to social media emerging as a source of news — mean editing strategies need to change as well.
"The point I made at the panel was that we have to start thinking more broadly about the role of an editor," Van Wyke said. "Students need to learn editing as a way to work with writers, be creative problem solvers and know how to identify legitimate content and analysis."
At the "Breakfast of Editing Champions," Van Wyke presented a technique of teaching Associated Press (AP) style, the standard in written journalism. Advising against the common approach of going through AP style alphabetically, Van Wyke instead advocated grouping stylebook entries into groups of 13 related categories.
For example, there are 50 entries in the stylebook that can be grouped into a "Crime and Courts" category. This technique caught the interest of a representative of www.NewsU.org, an online training tool for journalists overseen by the Poynter Institute. Van Wyke is working with the representative to create a course based on the strategy she devised.
Van Wyke, who will serve as the chairwoman of the AEJMC magazine division's teaching standards committee, also talked about the importance of teaching video journalism to newspaper and magazine majors.
Blachford participated in a panel called " Alternative Media: Thriving or Simply Surviving?" She focused on Bitch, an independent magazine that made news with a viral video seeking financial support to keep the publication operating.
According to Blachford, Bitch is representative of the larger problem in journalism, as alternative and mainstream media seek viable business models in an uncertain economy.
"There's a sea change happening to journalism," said Blachford, who will serve as the social media chairwoman of the AEJMC magazine division. "While it seems uncertain, this is an exciting time for our students because the industry is being reshaped. Our students are going to play a large role in the reinvention of journalism."