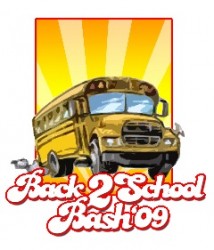 More than 500 Des Moines students from kindergarten through high school will go back to school this year with new supplies, thanks to the Back 2 School Bash.
On Sunday, Aug. 23, 100 first-year and returning Drake students will help staff the fourth annual Back 2 School Bash from 2-5 p.m. at the John R. Grubb YMCA, 1611 11th St.
Local students will receive free school supplies and enjoy a talent show, basketball tournament, music from a disc jockey and a carnival with field and inflatable games. Participants can also enter a raffle contest in which one family will receive a vacation package valued at $5,000 from Eatravel and one student will win a laptop.
"The Back 2 School Bash is all about bridging the gap between Drake students and the community," said Deidre Howard, who helped establish the event as a student at Drake. "We understand that education will help the students achieve their goals and we believe this event will give them a head start."
The bash was founded in 2005 by Howard and Drake graduate Shekinah Young. Drake students Eric Hall, Matt Martin and Ajibola Fajimolu also serve on the Back 2 School Bash committee.
Confirmed sponsors for the event include: ING, John R. Grubb YMCA, Cornerstone Family Church, Coalition of Black Students of Drake University, Drake University President David Maxwell, University of Northern Iowa, Omega Psi Phi Fraternity Inc., Alliance of Black Telecommunications Professionals, NAACP Youth Council, Papa John's, Sodexho Catering Services, among others. Community members Hemie Collier, Ray Brown and Terry Nettles also helped organize the event.