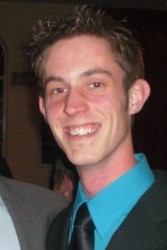 Tyler Boggess
The student-operated
Drake Broadcasting System
was honored recently for excellence in their live coverage of the 100th Drake Relays with two bronze
Telly Awards
. Drake, which was one of 14,000 entries from all 50 states and 5 continents, was recognized with awards for: student production and live events coverage.
"DBS has been covering the Drake Relays for two decades and this is the first time Drake has won multiple categories," said Todd Evans, professor of electronic media.
"This is certainly a testament to the dedication of the DBS students and the vision of Executive Producer Tyler Boggess."
Boggess, a senior radio and television production major from Kearney, Mo., has been involved with Relays production since his senior year of high school.
When asked what made this year's Relays coverage different from previous productions, he attributes the marked improvement to several factors.
"The crew we had this year was definitely the youngest I have ever seen," Boggess said.
"They were also the most inexperienced. But they had drive, and they brought a fresh, new perspective to the production. That allowed us to reinvent a lot of things."
He also credits David Wright, associate professor of electronic media, for his assistance in coordinating efforts between DBS and ESPN, which made its first appearance at the Relays this year.
"ESPN had a lot of rules and special procedures that we were unfamiliar with," Boggess said.
"Between that and the logistics of dealing with all the electronics and production trucks, Professor Wright was a tremendous help."
Boggess also said he has high expectations for future Relays productions.
"I really hope that this year's crew took something away from this experience that they can apply in the years to come. They proved they have the potential to make every year this good."
The Telly Awards, which have been around since 1978, are awarded to local, regional and cable television commercials and programs. The awards aim to honor stations for strengthening the visual arts community.