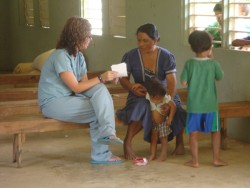 Erin Frazee works with a family in Belize.
The honor was presented at Drake's College of Pharmacy and Health Sciences Hooding Ceremony, recognizing students graduating with a Doctor of Pharmacy degree.
"I was very surprised and pleased to be given such a wonderful award," Frazee said. "It was a humbling experience."
The award is given to recognize a pharmacy student who has met the following U.S. Public Health Service criteria:
Development and implementation of educational and community based programs
Achieve a single outstanding act of significant benefit to a medically underserved community
Contributions of time, talent and energy without compensation in voluntary health related service that benefits individuals in need
Outstanding leadership and participation in recruitment, placement or training activities that effectively foster the team approach in patient care
"Working in Belize helped me grow both as a professional and a global citizen," said Frazee, who is now a pharmacy practice resident at the Mayo Clinic.
Heather Personett, Frazee's good friend and personal colleague, wrote the nomination letter that further detailed Frazee's hard work and dedication to service while in Belize.
"Her work included, but was not limited to, improving the pharmacy distribution system, providing education about medicine and pharmacy practice to patients and healthcare providers and interacting with the elderly through blood pressure screening sessions," Personett wrote
"She saw for herself, that her effort and the generosity of many others had truly made a significant difference in the lives of the people of the Toledo District of southern Belize."
Frazee said she plans to complete a specialty pharmacy residency in either critical care medicine or infectious diseases. Afterwards, she intends to obtain board certification as a pharmacotherapy specialist.