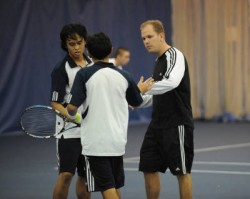 Drake Athletic Director Sandy Hatfield Clubb announced last month that a search is under way to hire a new men's tennis coach to succeed Chase Hodges who has accepted a job as head coach at Georgia State.
"Chase Hodges worked extremely hard to make the Drake men's tennis program among the elite in the nation," said Hatfield Clubb. "We thank him for all that he has done in making Drake a better program and wish him the very best at Georgia State."
Drake posted an 85-17 mark in four years under Hodges, the three-time Missouri Valley Conference Coach of the Year, while advancing to the NCAA Tournament three times and claiming regular season MVC titles in 2007, 2008 and 2009.
In the past four seasons, the Bulldogs owned the nation's longest regular season (42) and second-best home-court winning streak (47), while ascending to their highest ranking in school history checking in at No. 33 on March 4, 2008. Additionally, three Drake players were named as the MVC Player of the Year and Newcomer of the Year, respectively in this span.
The Bulldogs finished the 2008 regular season campaign as one of only two teams in the country with an undefeated record, joining No. 1 Virginia, en route to a school-record 24-1 record. The 24 victories equaled a school record set in 2006.
"The past four seasons at Drake University have been some of the best years of my life," Hodges commented. "I feel honored to have coached such a wonderful group of young men and am very proud of winning an MVC title the past four years. I would like to thank President Maxwell, Sandy Hatfield Clubb, the Drake administration, staff and student-athletes for making my experience at Drake an incredible one."