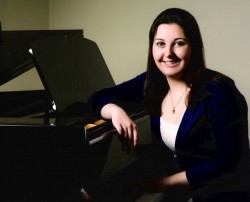 Mallory McDevitt
Mallory McDevitt was the only one surprised when she received an award for courage at her high school's senior awards night.
"I don't consider myself brave," said McDevitt, who will start her first year at Drake this fall. "But I guess maybe I am, to an extent."
"To an extent" doesn't do McDevitt justice.
The Marble Cliff, Ohio, native was born without a pulmonary artery, the result of severe congenital heart defects. When she was just seven days old, McDevitt had her first open-heart surgery, in which a cadaver artery was grafted.
Unfortunately, the artery did not grow larger as she grew, and at the age of 11 she received a larger graft. Sometime next summer, she'll likely go through her third open-heart surgery, this time to put in a pulmonary valve.
McDevitt's health situation has made for some scary moments, but it's also been inspirational.
For a required senior project, McDevitt used her experiences as the basis for a 25-minute documentary called "Living with a Good Heart: The Pursuit of a Normal Life." The documentary features McDevitt and friends she has known since she was 3-years-old from a cardiac support group talking about living with their conditions.
Her friends include a 24-year-old mom, a 22-year-old musician and an 18-year-old dancer and musician. The documentary also features McDevitt's cardiologist, Dr. John Wheller, who discusses medical advances in treatment of congenital heart defects.
More than 40,000 Americans are born each year with congenital heart defect. It is the No. 1 cause of birth-defect-related death. According to the American Heart Association, the risk of dying following congenital heart surgery is about 5 percent, compared to 30 percent in the 1970s.
The documentary, which McDevitt made with the help of her older sister, will become part of informational materials that Nationwide Children's Hospital in Columbus, Ohio, gives parents who have children with congenital heart problems. It will provide them with reassuring insights about the disease, delivered with a much-needed dose of optimism.
"The audience for the video is new parents with a child who has been diagnosed with congenital heart problems," McDevitt said. "I want them to see teenagers and young adults who are living their lives. In the video, we all share what we've gone through and what we've been able to do despite our defects."
Making the video was an emotional experience because McDevitt and her friends had to reflect on everything that's happened to them. It provided McDevitt with a deeper understanding and appreciation for her friends.
"When I interviewed my friends, that term 'normal life' came up a lot," McDevitt said. "We're limited when it comes to physical activities, like contact sports. That's our normal. That's what makes our normal different from other people's."
McDevitt competed in tennis in high school, but only doubles because she doesn't have the physical stamina for singles. Still, she's considering becoming involved with intramural tennis at Drake.
Coming to Drake, which is far from her Ohio home, is another display of McDevitt's humble courage. She's excited about starting her college career. Her father is from Iowa and she has lots of family in the area. Her godfather lives near campus.
She's already found a cardiologist in Des Moines and knows she'll have to explain her health situation to her roommate.
"I went to a small high school so I wanted to attend a smaller college, too," McDevitt said. "I read a lot about Drake and it looked good on paper. I fell in love with it as soon as I stepped on campus."
Drake's size was appealing for a reason closely related to McDevitt's "normal."
"Campus," she said, "is an easy walk, which is good for me."