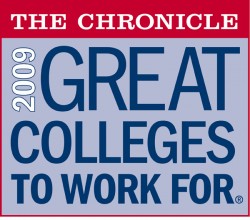 Drake University scored in the top 10 in eight categories among medium-sized universities and colleges in the Chronicle of Higher Education's 2009
"Great Colleges to Work For" survey
.
The rankings, based on a survey of faculty and staff at hundreds of institutions around the country, show a high level of confidence in Drake's senior leadership and demonstrate the University's commitment to open communication about important decisions.
"The fact that our leadership is so respected and trusted at a time as challenging as this is incredible," said Drake Associate Provost Sue Wright.
"We are delighted to be recognized by The Chronicle of Higher Education for the second year in a row as one of the top "Great Colleges to Work For" in the nation," said Drake President David Maxwell. "Our mission statement promises an 'exceptional learning environment,' and we keep that promise with exceptional faculty and staff.
"Our commitment to transparency, campus-wide engagement in the discussions that shape the University's future, to competitive compensation and professional development are essential in attracting and retaining the very best, and it is very rewarding to know that those efforts are recognized by the campus community."
The "Great Colleges to Work For" survey recognizes institutions for best practices and policies in 26 categories for four-year colleges and universities. Within those categories, institutions are classified based on enrollment. Drake is considered a medium-sized university with between 3,000 and 9,999 students.
Drake University is ranked in the top 10 in each of the following categories:
Healthy Faculty-Administrative Relations: Senior leadership communicates with and respects faculty members
Collaborative Governance: Faculty members are appropriately involved in decisions related to academic programs
Confidence in Senior Leadership: Leaders have the knowledge, skills and experience necessary for institutional success
Internal Communications: Ideas are fully considered and issues debated for better results
Tenure Clarity and Process
Health Insurance
Tuition Reimbursement
Housing Assistance Program
"We are proud that our health, tuition and housing assistance programs were recognized as outstanding employee benefits," said Venessa Macro, Drake director of human resources. "Drake has enhanced each of these benefits over the past few years.
"Whether it is providing additional housing assistance to buy a home in the Drake neighborhood, extending tuition benefits to include reimbursement for job-related Ph.D. programs or covering smoking cessation treatment as part of the Drake medical plan, Drake and the University Benefits Committee understand the importance of aligning the values and mission of the University with the employee benefits we offer."