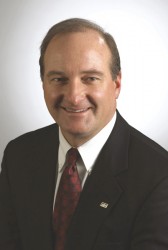 Jim Noyce
Jim Noyce, BN'78, has been named senior adviser to Drake Athletics Director Sandy Hatfield Clubb and major gifts officer for the Bulldogs.
Noyce had been Chief Executive Officer of FBL Financial Group, Inc., and its affiliated financial services companies which include Farm Bureau Life Insurance Company, EquiTrust Life Insurance Company and Farm Bureau Mutual Insurance Company since Jan. 1, 2007.
"It is with great pleasure and excitement that I welcome Jim Noyce to the Drake athletics staff," said Hatfield Clubb. "Jim has been an active alumnus and a strong leader in the Des Moines community. He is the perfect person to help move the vision for Drake Athletics forward."
"I am very excited to become a part of Drake University and the Drake Athletic Department staff." Noyce said. "I've gotten to know Sandy since she became Athletic Director at Drake, and I believe her vision for Drake athletics is exactly the right one. I'm honored to be given the opportunity to help her fulfill that vision."
Noyce earned a bachelor's degree in actuarial science and accounting from Drake in 1978. He joined FBL and Farm Bureau Financial Services in March of 1985 where he served in various positions including Chief Financial Officer for 12 years prior to being Chief Executive Officer.
Noyce is involved in many civic organizations, serving on the board of directors of United Way of Central Iowa (including chairing the 2008 Campaign which raised over $25 million for the United Way of Central Iowa), Special Olympics Iowa (including chairing a capital campaign committee that successfully raised $2 million for a new headquarters), Grand View College, Mid-Iowa Council of Boy Scouts of America, Greater Des Moines Partnership and The Principal Charity Classic. Noyce is a past president of the West Des Moines Rotary Club, past president of Des Moines Golf and Country Club and past chairman for Junior Achievement of Central Iowa.
Noyce is a Fellow of the Casualty Actuarial Society, a member of the American Academy of Actuaries, an Associate of the Society of Actuaries, a Certified Public Accountant and a Fellow of the Life Management Institute.
In May of 2007, he was named Iowa's Outstanding Certified Public Accountant in Business and Industry. Noyce was inducted into the American Institute of Certified Public Accountants Hall of Fame in July of 2007.