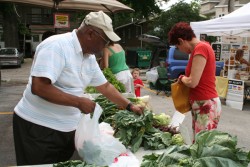 MEDIA CONTACT: Lisa Lacher, 515-271-3119, lisa.lacher@drake.edu
The Drake Neighborhood Farmers' Market on Wednesday, Aug. 19, will feature a Kids' Book Party, sponsored by Drake University's School of Education, providing a free book to every child.
Visiting Nurse Services will offer information about their Senior Companion Program.
Free face painting and tattoos also will be available.
In addition, market goers can enjoy free entertainment by local band Jerry & the Moonlighters, who will perform 5-6:30 p.m.
The market will be open from 4 to 7 p.m. every Wednesday through Sept. 30 in the parking lot of First Christian Church, 2500 University Ave. Free parking is available for shoppers across from the market on the east side of 25th Street.
More than 20 vendors will offer Iowa-grown produce, baked goods, snacks, meals, sandwiches and crafts. Four vendors will have wireless equipment to accept bank debit cards, VISA, Discover and MasterCard credit cards, as well as Electronic Benefit Transfer cards.
IFMNP/WIC checks and Senior Farmers' Market Nutrition checks are welcome at the market.
Entertainment will be provided weekly, as well as educational and informative guests. The market has a health tent, where free blood pressure checks and blood sugar tests will be available every week.
The market is a nonprofit, community project sponsored by First Christian Church, the Drake Neighborhood Association and Drake University. For more information, call Ginny Gieseke at 515-277-6951 or visit the market's Web site.
Upcoming market events will include:
Aug. 26
• For Your Health – talk with representatives from L.U.N.A., which provides 24-hour crisis intervention, legal immigration advocacy and ongoing support to immigrant victims of domestic violence
• Kids' Veggie Toss Game