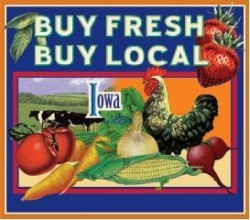 In honor of National Farmers' Market week, representatives from Drake University's Buy Fresh Buy Local will visit five markets, distributing directories and encouraging market goers to buy fresh, local foods during the growing season.
The celebration, which will be held from Aug. 3-9, will take Buy Fresh Buy Local to the following Des Moines area markets:
Urbandale — Living History Farms — Monday, Aug. 3
Johnston — Tuesday, Aug. 4
Drake Neighborhood — Wednesday, Aug. 5
Valley Junction — Thursday, Aug. 6
Des Moines Downtown — Saturday, Aug. 8
"We're doing a marathon of markets all around Des Moines next week," said Matt Russell, coordinator of Buy Fresh Buy Local. "Our goal is to bring the campaign to more people to celebrate farmers markets and local foods."
Farmers markets are providing Greater Des Moines with a variety of local foods all season long. For a list of markets, the date and time of operation and opening and closing dates, consumers can access the directory online at
www.buyfreshdrake.org
.
The campaign for local foods, which began in 2004, is building a network of local farms, restaurants, food retailers and processors to expand the program in the seven-county region surrounding Des Moines — Polk, Boone, Dallas, Jasper, Madison, Marion and Warren counties. The campaign also includes Iowa farms from more distant counties that sell their food in the Greater Des Moines market.
In addition to free directories, visitors can purchase Buy Fresh Buy Local merchandise from the BFBL booth at the farmers markets listed above.
Consumers can take the pledge to spend 5 percent of their weekly food dollars on local food by going online to www.buyfreshdrake.org.