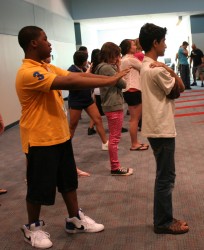 Two campers participate in a trust exercise.
Two rows of high school students ring the stairwell on the second floor of the Olmsted Center, preparing for an exercise in trust.
After making sure everyone is ready, the students in the first row slowly fall backwards and are gently caught by the students in the second row.
This is just one of many experiences these students will have during the 10 busy days of SuperCamp, a residential academic summer program Drake University is hosting in July.
High school and middle school students at SuperCamp engage in experiential exercises, dynamic mental and physical challenges and team problem solving.
High school students focus on reading, writing and SAT/ACT preparation. Middle school students participate in similar academic areas, as well as interactive group activities, including non-verbal communication.
There are 48 high school seniors and 40 juniors at Drake for SuperCamp. They come from states all over the country, including California, New York, Colorado, Iowa, Wisconsin, Illinois and Texas. There are even students from as far as Yemen, France and Qatar.
This the second year Drake has hosted SuperCamp, and it is as much an opportunity for Drake students as it is for the participants.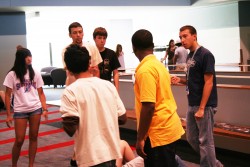 Andrew Brown (far left) instructs his team on an exercise called the human zipper.
Andrew Brown, a junior from Lenexa, Kan., majoring in education and history, is a SuperCamp team leader, making sure everyone gets the most out of the SuperCamp experience.
For Brown, SuperCamp represents a valuable opportunity to interact with high school students. In learning sessions, he's charged with keeping students focused and helping with activities. His biggest challenge has been urging quieter kids to open up, and encouraging the more confident, extroverted ones to let others have a say.
He spends all day with the kids, having meals with them and doing bed checks when it's "lights out" time. Even though he's just a few years older than most of the SuperCamp students, he's learning a lot about new music and other cultural touchstones that appeal to the high school set.
"Professionally, there are a lot of benefits to this," said Brown. "It's like student teaching for student teaching. When I go into it next year, I'll definitely have some insights into how to manage a classroom."
Alice Hoffmeister (ED '08) is the SuperCamp site administrator. She was a team leader two years ago at a SuperCamp in Colorado. Last year she was office coordinator when SuperCamp was at Drake. She teaches 7th grade in Des Moines.
"The strategies and tools really do work. I use them a lot in the classroom with my kids," Hoffmeister said.
Other SuperCamp host sites include Stanford University, Cornell University, Wake Forest University, University of Washington, Colorado College and California State University – San Marcos.
Studies of SuperCamp graduates indicate positive results in the areas of increased grades, improved student motivation and higher levels of self-confidence and self-esteem.