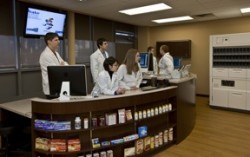 Students practice in a setting similar to those found in retail pharmacies.
"This environment is the same as real-life pharmacies — the same equipment, software and process — eliminating the worries about technology and allowing the students to focus on patient care," said Heidi Price, instructor of pharmacy practice, who instructs students at all levels in the lab.
A six-semester pharmacy skills and applications course allows students in Drake's Doctor of Pharmacy program to work in the lab throughout the three-year program.
"Students who haven't even touched the lab or software before can learn to fill prescriptions in just 10 minutes," Price added. "Each of the new tools will allow students to focus more time on patient care."
The lab also has four flat screen TVs, computers with video recording and playback functions for critiquing sessions, signature pads and vitals equipment for checking blood pressure and temperature.
In addition to the gift from Don Davidson, Walgreens, Inc. contributed to the space by providing support for the creation of an over-the-counter pharmacy within the laboratory. The addition of non-prescription medications will enable students to learn about drug interactions and non-prescription drug counseling.
Contributions enhance students' experience
Drake's College of Pharmacy and Health Sciences secured additional contributions to support equipping the lab with the latest technology.
Parata Systems Inc. made an in-kind contribution toward the purchase of a Parata Max automated dispensing unit. Currently one of only three in Iowa, this unit will provide students the opportunity to work with automated technology alongside traditional dispensing techniques, as they would in many retail pharmacy environments.
The college also received an in-kind gift from PDX to install pharmacy management software in the laboratory. This software, found in many pharmacies, will allow students to learn about pharmacy workflow management, check for drug interactions while filling prescriptions and file practice insurance claims.
A celebration honored generous donors
Drake recently recognized Davidson and other contributors that made the new laboratory space possible a special lab dedication ceremony on April 23.
For more information on the event or gifts, contact Emily Hamilton at emily.hamilton@drake.edu.