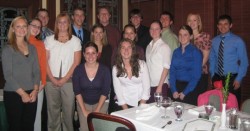 Twenty-four students were inducted into Drake University's Gamma
Theta chapter of the Rho Chi Society at a banquet on Saturday, May 2nd,
2009. The Rho Chi Society is a national pharmacy honor society that
acknowledges the academic achievements of the top twenty percent of
each pharmacy class. The students inducted into the Gamma Theta
chapter for class of 2011 are:
Krysta Byerly, Dorothy Chrzaszcz, Laura Cruce, Monica Fink, Daniele
Glas, Amy Kuehl, Bradley Laflen, Emily Lentz, Szehon Li, Katherine
Maday, Elise Marquardt, Kathryn McDonald, Lee Mews, Carly Meyer,
Kathryn Owen, Joel Peterson, Taylor Post, Jeffrey Prill, Andrew
Roberts, Jason Salton, Katherine Shihadeh, Ellen Stolz, Andrew Swartz,
and Jessica Taylor.
Drake University Pharmacy Students Named to Leadership Honor Society
This spring Phi Lambda Sigma, the National Pharmacy Leadership
Society, inducted 16 new members. The Society promotes the development
of leadership qualities among pharmacy students. Members are nominated
by faculty, peers, or self-nomination and selected by peer recognition.
Such recognition instills and enhances self-confidence, encourages the
less active student to a more active role and promotes greater effort
toward the advancement of Pharmacy. Membership in the Phi Lambda Sigma
Society is a privilege accorded to students who distinguish themselves
by their leadership achievements.
The 2008-2009 Inductees are: Rachel Althoff, Carter Birkel, Lisa
Koselke, Allie Marr, Erin McCleeary, Mason Bucklin, Jared Butler, Tori
Erxleben, Tim Humlicek, Amy Kuehl, Brad Laflen, Elizabeth Marks,
Kathryn McDonald, Megan Ostrem, Jordan Ruestman, Ben Urick