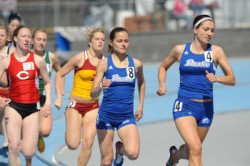 Nicole Braunsdorf (left) and Casey McDermott were named to the MVC Scholar Athlete track and field team.
The Drake men's and women's track and field program landed 12 student-athletes on the Missouri Valley Conference Track and Field Scholar-Athlete team.

To be eligible a student-athlete must maintain a 3.0 cumulative grade-point average and place among the top eight finishers in an event during either the MVC Indoor or MVC Outdoor Championships.
Drake senior Leyden Tolhurst (Auckland, New Zealand), who won the 1,500 at the MVC Outdoor meet, headlined the four athletes selected on the MVC Men's Track and Field Scholar-Athlete team. He owns a 3.32 grade-point average in accounting.
Drake seniors Josh Bangert (Washington, Mo.) and Jeff Grassmeyer (Fremont, Neb.) along with junior Troy Kimberlin (Rochester, Ill.) also were chosen to the elite team. Bangert has a 3.23 GPA in pharmacy, while Grassmeyer owns a 3.63 GPA in secondary education and Kimberlin a 3.10 GPA in accounting.
Drake senior Nicole Braunsdorf (St. Francis, Wis.) led the list of eight women who were recognized. Braunsdorf has a 3.65 GPA in internet/public relations.
Other female athletes named were junior Caitlin Able (Aurora, Colo.), 3.32, graphic design; sophomore Ari Curtis (Fort Collins, Colo.), 3.80, magazine; junior Deidra Dirth (Apple Valley, Minn.), 3.20 psychology; sophomore Kara McCartney (Elgin, Iowa), 3.79, international relations; sophomore Casey McDermott (Newton, Iowa), 3.29 psychology; sophomore Michell Mitchelle (Brookfield, Wis.), 3.52, pharmacy; and sophomore Cambria Pardner (Aurora, Colo.), 3.39 public relations.