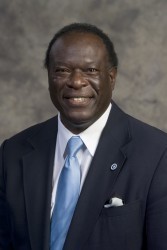 Dolph Pulliam
In the wake of pop star Michael Jackson's death, Dolph Pulliam, LA'69, director of community outreach at Drake, told the Des Moines Register about his friendship with Jackson. Read the
story
written by Drake alumnus Daniel P. Finney.
Jackson and Pulliam grew up in Gary, Ind. Pulliam, who was recently inducted into the Indiana Basketball Hall of Fame, was a standout basketball star and played ball with Jackson's older brothers at Roosevelt High School, there.
Pulliam later attended Drake and was on its 1969 Final Four team. After graduating from the University in 1969, he joined the KCCI-TV news team, becoming the first African-American broadcaster in Iowa.
Pulliam and Jackson crossed paths again in 1971 when the Jackson 5 was playing at the Iowa State Fair. At that time Pulliam was working for KCCI and he scored an interview with Jackson, who said he had always admired Pulliam.
Jackson asked him for his autograph and Pulliam obliged and received autographs from Jackson and his brothers in return.
State Fair holds vote on butter sculpture of Michael Jackson
Shortly after Jackson's death, Iowa State Fair officials announced plans to recognize Jackson's contributions to music and dance by featuring a butter sculpture of the pop icon doing his moonwalk dance alongside the fair's famous butter cow — a jersey this year.
The idea proved highly controversial even as fair officials explained that the "butter" Jackson would be just part of a display celebrating the 40th anniversary of the first U.S. lunar landing and Neil Armstrong's moonwalk.
Fair officials decided to put the issue to a popular vote and set up butter balloting on the Iowa State Fair Web site. Voters must provide an e-mail address and ZIP Code. Results are scheduled to be announced July 17.
Join in the Drake Day at the Fair on Aug. 15
With or without the "butter" Jackson, Drake alumni and friends are invited to celebrate Drake Day at the Iowa State Fair at the fairgrounds on Saturday, Aug. 15.
Visit the Drake tent on Rock Island Avenue, where the University will provide free disposable cameras (quantities are limited) for visitors to snap souvenir photos in several "virtual" Drake scenes.
Bulldog athletes also will make appearances and sign autographs.
Alumni who provide Drake with their e-mail addresses will receive miniature Drake pennants (while supplies last).
In addition to Drake Day at the Fair, the University will have a booth in the William C. Knapp Varied Industries Building throughout the entire fair, which runs from Aug. 13-23.